This content was published in the period between
-
Kristina Persson is no longer a government minister, Minister for Strategic Development and Nordic Cooperation
-
"Work is the cement of the Swedish welfare state"
'The future of work'. This is the name of one of the three thematic areas that the Government's new Secretariat for Startegic Development for the Future will work with. The Government's objectives of high employment and low unemployment will be the focus of an analysis group by the same name, led by Annelie Nordström, Chair of the Swedish Municipal Workers' Union (Kommunal), and Klas Eklund, economist and writer with previous experience of political assignments in the Government Offices.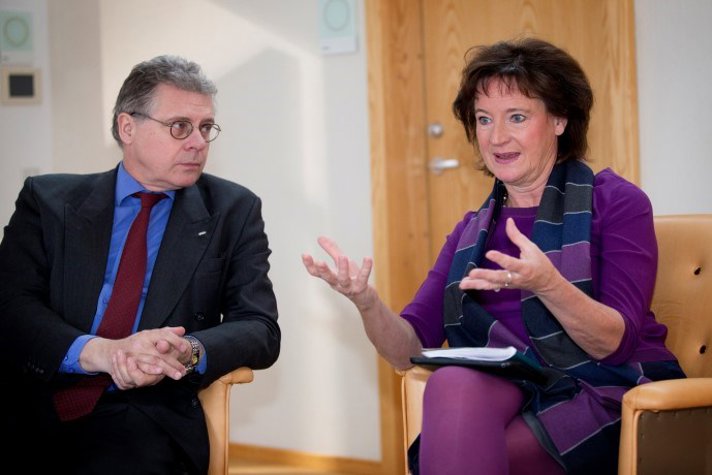 Expectations are high and enthusiasm likewise when Annelie Nordström and Klas Eklund meet in February to talk about how they want to tackle their part of the Government's work on future issues, which will take shape in cooperation with the business sector, researchers and civil society. Kristina Persson, Minister for Strategic Development and Nordic Cooperation, has overall responsibility for the Government's work on future issues.

"We really want to set out from the present and all that has already been done to develop thinking about the future shape of work and working life. We want to dig a bit deeper into what work actually is all about. The objective must be a society of social and gender equality," says Annelie Nordström.
"Work has been the cement of the Swedish welfare state. If the labour market doesn't work, Sweden won't work," Klas Eklund adds.
Proposed policy measures
The purpose of the analysis group is to define challenges and problems, develop strategies and propose priority policy measures in the medium and longer term. The group that Annelie Nordström and Klas Eklund will lead will analyse and describe the conditions, challenges and opportunities associated with the goals of high employment and low unemployment in the medium term, which is defined here as 10–15 years. The idea is that the analysis group will indicate possible ways of achieving these objectives.
What challenges do you see ahead?
"The Swedish model is based on work and we have succeeded in creating a social infrastructure in Sweden with universal childcare, which means that everyone can work. This is a quite unique achievement that allows us to offer everyone the chance to take part in working life. We also provide universal elderly care in Sweden. One major challenge will be to ensure that the social infrastructure can survive and develop so as to support an active working life in various ways," says Ms Nordström.
Digitalisation will replace jobs
Turning to internationalisation and globalisation, Klas Eklund sees several challenges that are relevant to the Government's work on the future.
"Mining and manufacturing have long been the engine in the Swedish economy but this is starting to change. It's difficult for a country as small as Sweden to be a leader in many different areas. How can we meet this type of challenge? Another challenge is technology. Unlike some countries, Sweden has traditionally been very pro-technology. But there is no guarantee that new technologies will create jobs in the way that old technologies did. Digitalisation and automation are replacing jobs in the labour market, both in manufacturing and in the services sector. Here we face difficult and exciting challenges," says Mr Eklund.
Report to be ready in 2016
The analysis group will begin its work in early 2015 and will have a broad membership, composed of people with a wide range of expertise and experience. The group will work freely and independently within the framework of its instructions and resources. Several outreach activities are planned, such as hearings, seminars and conferences. A report is expected in a year's time, presenting conclusions, strategic considerations and proposals for policy measures.
"We will indicate a number of ways forward, opportunities, challenges and threats, and then discuss in concrete terms how we can make Sweden as successful as possible," says Mr Eklund.