Isabella Lövin is no longer a government minister, Minister for Environment and Climate, and Deputy Prime Minister
-
Minister for International Development Cooperation and Climate, and Deputy Prime Minister
-
Minister for International Development Cooperation
-
This content was published in the period between
-
Government decides on core support to multilateral organisations for 2015
Today the Swedish Government decided on core support for fifteen UN bodies, active in fields including assistance to people in distress, promotion of women's rights and reducing child mortality worldwide.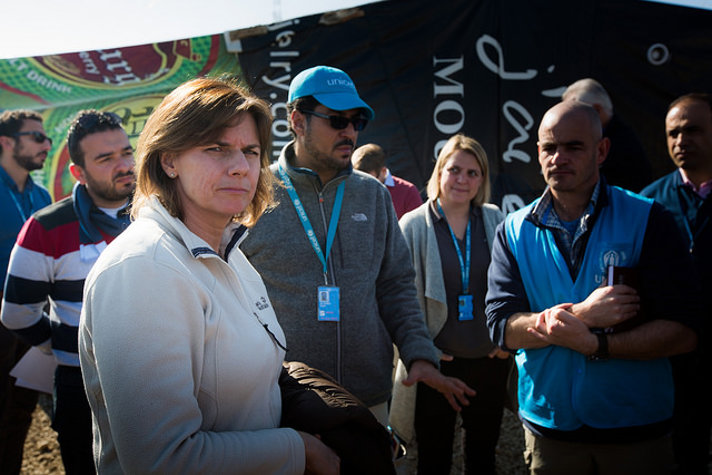 Unlike earmarked support, core support enables multilateral organisations to distribute resources flexibly according to existing needs, as the contributions are channelled directly into the organisations' budgets. Core support is a prerequisite for maintaining an effective organisation. It gives organisations greater flexibility and enables them to plan their activities over the long term, while being able to respond rapidly in the event of a crisis. Distressed and desperate people should not have to wait for each individual donor's analysis, grant management and, in the worst case, policy decisions before the response can be set in motion. Sweden's support enables immediate assistance for women, men, girls and boys who, in many cases, are fighting for their lives. As the largest donor of organisational support to the UN refugee agency (UNHCR) we have helped it provide rapid and vital protection and assistance to people in places ranging from Ukraine and Iraq to the Philippines, South Sudan and Ethiopia.
Sweden's support to and involvement in multilateral organisations also gives us access to decision-makers in virtually every country in the world and the opportunity to influence the shape of strategies and work plans.
The role of core support in a feminist foreign policy
With its feminist foreign policy, and as a champion of women's rights throughout the world, Sweden's support to multilateral organisations also represents an important opportunity to pursue issues of women's rights and economic empowerment.
UN Women, in which Sweden plays a very central role, is responsible for coordinating the UN bodies' work on gender equality and is a key body in gender equality efforts in the UN. UN Women has also played a very active part in producing the new sustainable development goals, and has advocated successfully, alongside Sweden, for a separate goal on gender equality.
Sweden is also the largest donor of core support to the UN Population Fund (UNFPA), which works to promote sexual and reproductive health and rights, focusing on women, girls and young people.
Sweden has also contributed to the UN's World Food Programme (WFP) now taking a modern approach to gender equality efforts, with men and boys also included in the implementation.
Sweden can make a real difference in gender equality
Support to women in war and conflict
Women and girls make up approximately half of the 59.5 million forcibly displaced people in the world. They are particularly vulnerable as they flee, when the risk of falling victim to sexual and gender-based violence increases, as has been the case during the worsening crises in Iraq and South Sudan in the last year.
The UNHCR takes an integrated approach to gender equality issues in its regular activities including setting up refugee camps, providing training and distributing food, as well as through specific initiatives to combat sexual and gender-based violence. In 2014, Sweden was the fourth largest bilateral donor to the UNHCR, and we also provide targeted support via Sida for the implementation of the UNHCR strategy to combat sexual and gender-based violence.
Conflicts and natural disasters reinforce existing inequalities between men and women. Vulnerable groups, including women and girls, become increasingly exposed. Sweden has worked proactively to counter this in various contexts, such as via the UN Office for the Coordination of Humanitarian Affairs (OCHA), which has a coordinating role and builds capacity in the humanitarian system with the help of gender advisers.
Furthermore, in 2015–2016 Sweden will take on the leadership of the Call to Action on Protecting Girls and Women in Emergencies, an initiative that is in line with Sweden's high profile in both humanitarian assistance and gender equality.
Towards seventeen new global sustainable development goals
In September this year, the UN General Assembly is due to adopt seventeen new global sustainable development goals (SDGs). These are to replace the eight Millennium Development Goals. Core support is, of course, not only important for the SDGs; it has also played a key role in achieving the Millennium Development Goals. Core support has helped ensure that the multilateral organisations have been able to focus on the Millennium Development Goals according to their comparative advantages.
Major challenges remain, but through Sweden's active engagement on the boards of these organisations and via our representations throughout the world, we have a good insight into activities, and the possibility to ensure that funds really are used as agreed. We will also continue to conduct a dialogue on key issues with these organisations, with the aim of achieving change and results that are in line with Sweden's feminist foreign policy.
Core support in figures
Organisation

2015 (USD millions)

(CERF)
United Nations Central Emergency Response Fund

48,6

(GAVI)

Global Alliance for Vaccines and Immunisation

41,5

(ICRC)

International Committee of the Red Cross

5,9

(UN Women)

United Nations Entity for Gender Equality and the Empowerment of Women

8,3

(UNAIDS)

Joint United Nations Programme on HIV/AIDS

23,7

(UNCDF)

United Nations Capital Development Fund

2,9

(UNDP)

United Nations Development Programme

58,7

(UNFPA)

United Nations Population Fund

57,5

(UNHCR)

United Nations High Commissioner for Refugees

75,9

(UNICEF)

United Nations Children's Fund

62,3

(UNODC)

United Nations Office on Drugs and Crime

4,2

(PBF)

United Nations Peacebuilding Fund

6,8

(WFP)

United Nations World Food Programme  

65,2

(IDEA)

International Institute for Democracy and Electoral Assistance

5

(OECD-DAC)

Organisation for Economic Cooperation and Development, Development Assistance Committee

8