This content was published in the period between 3 October 2014 and 20 January 2019
Ministers on this page who have left the Government
Between 3 October 2014 and 10 September 2019 she was Minister for Foreign Affairs.
Ministers on this page who have left the Government
Between 3 October 2014 and 10 September 2019 she was Minister for Foreign Affairs.
The Government presented Sweden's support to France
Sweden attaches great importance to the EU as a community of solidarity. It is in our security policy interest that Article 42(7) of the Treaty on European Union and the EU's security policy as such are credible. This requires that the bilateral assistance and support requested by France is now credible and fit-for-purpose. Sweden will therefore play its part, as outlined at a press briefing by Minister for Foreign Affairs Margot Wallström and Minister for Defence Peter Hultqvist today.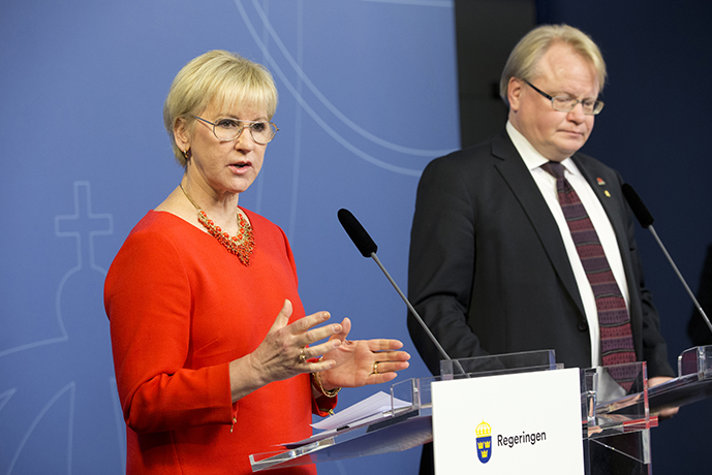 As a follow-up of France's request under Article 42 (7) of the Treaty on European Union and additional support in the fight against ISIL, an inventory of possible Swedish contributions has been made. The starting point for this is that it must be requested, fit-for-purpose, effective and efficient, credible, sustainable over time, in accordance with international law, based on a risk analysis and based on broad consensus and available Swedish resources, in terms of both personnel and funding.
In an initial package, Sweden can offer the following:
50–100 SAC hours (strategic airlift capability) will be placed at France's disposal.
Tactical air transport (1 TP84) for use in MINUSMA within the framework of a Nordic rotation in which Sweden would take over from Norway and Denmark in spring 2017.
A number of staff officers for MINUSMA or UNTSO.
A reinforced Swedish contribution to EUTM Mali is being looked into, if possible in cooperation with others.
A request concerning support in the form of military equipment is being processed under a separate decision procedure.
In addition to this, there is the Swedish military training contribution comprising 35 people who have been on the ground in northern Iraq since August 2015 and will remain there in 2016 if the Riksdag gives its approval. Sweden's contribution also includes personnel stationed at staff headquarters in Baghdad and Erbil. In Mali, Sweden is participating in MINUSMA with a contribution of 250 people. The current mandate extends until 30 June 2016. An extension of Sweden's contribution is expected until the end of June 2017. Sweden currently has 10 people placed with the EUTM in Mali and has decided to continue its contribution of two staff officers with the EUMAM in the Central African Republic.
In spring 2016, the conditions for additional Swedish support will be regularly looked into on the basis of the needs that exist and that emerge in the anti-ISIL coalition, and on the basis of what other countries have contributed, as well as in line with the aforementioned criteria. A review will then take place in autumn 2016.
Moreover, Sweden is providing extensive humanitarian support and development cooperation. Sweden's humanitarian support to Syria since 2011 has amounted to SEK 1.9 billion, and in 2015 support amounted to SEK 577 million. The Government is now raising its level of ambition by drawing up a whole new type of aid strategy for the Syrian crisis, comprising SEK 1.7 billion for the period 2016–2020. SEK 16 million will go to the Syria Recovery Trust Fund, which meets the needs of the population in the opposition-controlled areas. In addition, support is being given to Birgitta Holst Alani's facilitator role in the Intra-Syrian Contact Group for the Continuity of Public Services, Reconstruction and Development, and the opposition's efforts to agree and take part in the UN process are being supported by Special Envoy Niklas Kebbon. Moreover, Sweden is working to strengthen women's participation in the UN-led negotiations.
Since 2014, Sweden has given more than SEK 300 million in humanitarian support to Iraq, in addition to major Swedish non-earmarked core support to the UN and other international organisations, which in total makes Sweden one of the largest donors to the region. Development cooperation will be expanded by SEK 40 million in 2016 for capacity building of central and local government in Iraq. Sweden is also contributing USD 4 million to the UNDP stabilisation fund (approx. SEK 32 million). In addition to this, possibilities are being looked into for providing support to strengthen the rule of law and the security sector in Iraq, and to contribute to the country's long-term stabilisation. (One possibility could be a civilian ESFP operation targeting capacity building in these areas.)