This content was published in the period between 3 October 2014 and 20 January 2019
Ministers on this page who have left the Government
Between 3 October 2014 and 27 July 2017 she was Minister for Infrastructure.
Ministers on this page who have left the Government
Between 3 October 2014 and 27 July 2017 she was Minister for Infrastructure.
New road safety initiative – Vision Zero remains in place
The Government is now launching action to inject new energy into road safety efforts, for all modes of transport. On 15 March 2016, Minister for Infrastructure Anna Johansson hosted a meeting of industry and government agency representatives to build an understanding of the challenges in the area and to begin discussing initiatives and solutions to meet these challenges.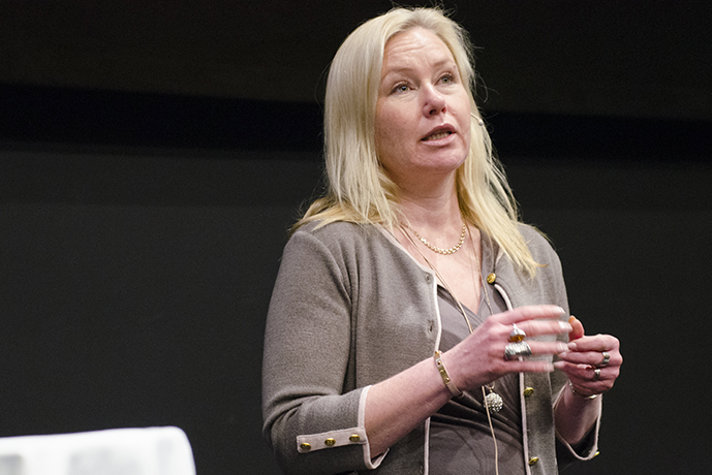 "The fact that people die in the transport system is a major challenge to society and a global public health problem. Sweden's Vision Zero has been very successful in lowering the number of deaths and injuries in traffic. Sweden has benefitted from this in several ways. Apart from the obvious that we save lives, road safety efforts – and in particular Vision Zero – have led to Swedish export successes in the global market," Ms Johansson said.
"We now want to develop a number of initiatives that help boost future work. An important part of this is the Swedish model, with cooperation between the government agencies, municipalities, industry and other relevant stakeholders," Ms Johansson continued.
The starting point for these efforts is to keep Vision Zero in place, since it has proven successful. The aim of the initiative is to clarify the Government's future focus for road safety and to provide the conditions to achieve existing road safety objectives. The initiative is also to ensure a sufficiently fast pace in the developments to achieve the Vision Zero. The efforts are to create the conditions for Sweden to continue to export Swedish knowledge and solutions in road safety, and contribute to an enhanced innovation climate.
The meeting on 15 March focused particularly on discussing the security challenges that exist in the transport sector and which an new initiative should address. Discussions also began on which measures and initiatives should be included. The new initiative in the area of road safety is due to be launched in autumn 2016.
Increased road safety – in all modes of transport
Sweden is well known around the world for our work with Vision Zero and our successful road safety efforts in general. Swedish road safety solutions also represent a significant export product. The Government wants tap into and expand this.