Isabella Lövin is no longer a government minister, Minister for Environment and Climate, and Deputy Prime Minister
-
Minister for International Development Cooperation and Climate, and Deputy Prime Minister
-
Minister for International Development Cooperation
-
This content was published in the period between
-
Safer world for women and girls in focus at European Development Days
The European Development Days is a development forum that the European Commission has organised since 2006. This year's theme was gender equality under the thread 'Women and Girls at the Forefront of Sustainable Development'.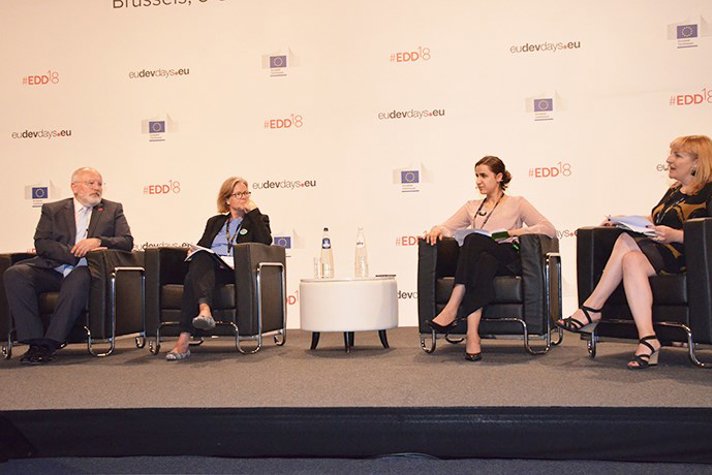 Carin Jämtin spoke about women in decision-making positions
Director-General of the Swedish International Development Cooperation Agency (Sida) Carin Jämtin took part in two panel discussions. One dealt with how we can increase the number of women in decision-making positions, and the other how men can be agents of change. Other participants on the first panel included First Vice-President of the European Commission Frans Timmermans and Gambia's Minister of Trade, Industry, Regional Integration and Employment Isatou Touray.
The topics discussed by the panel included ways in which we can involve and support young women with the aim of getting more women in managerial positions and on governing boards.
During the panel discussion, Ms Jämtin spoke about the need for different types of leadership. One way we can help more women enter the labour market is to create education and job opportunities for girls and young women. Others include a fairer distribution of work in the home between women and men, and giving men the opportunity to take parental leave.

- We need more women in the labour market, and one way is to support women's leadership. A good start towards increasing women's leadership is to teach our sons to be gender-equal men.
Responsibility for staff in humanitarian operations
Ambassador Mikael Lindvall, Representative of Sweden in the Political and Security Committee, took part in a discussion on transparency and responsibility for staff in humanitarian operations. The panellists discussed how we can work proactively to prevent abuses at workplaces.

A recurring theme during the panel discussions was that the recent abuses have resulted in both debate and an insight that new systems are needed, with better feedback and training, so that in the long term, a culture is created in which zero tolerance of all kinds of abuses is the norm.

Ambassador Lindvall emphasised the importance of having staff on site for the people working in the field and creating a good dialogue. Maintaining a dialogue and a local presence makes it easier to uncover corruption and signs of abuse more quickly.

- No institutions are free from abuse. We are all a part of the problem and we must all be part of the solution.

Also on the panel were Oxfam International's Executive Director Winnie Byanyima and Director-General of the European Commission's DG Humanitarian Aid and Civil Protection Monique Pariat.
Activists and ministers took part
The European Development Days attracts several thousand participants including heads of state and government, the UN Deputy Secretary-General, ministers, officials, activists, journalists and many more. The forum is a platform for dialogue and the exchange of experiences to move work on development issues forward.
A feminist foreign policy
European Development Days 2018