This content was published in the period between 21 January 2019 and 8 July 2021
International community gathered to affirm commitment to combating Holocaust distortion, antisemitism and other forms of discrimination
On Sunday 19 January, the International Holocaust Remembrance Alliance (IHRA) held a ministerial meeting in Brussels. Minister for Education Anna Ekström represented Sweden. During the meeting, a Ministerial Declaration was adopted to commemorate the 75th anniversary of the end of the Second World War and the 20th anniversary of the adoption of the Stockholm Declaration.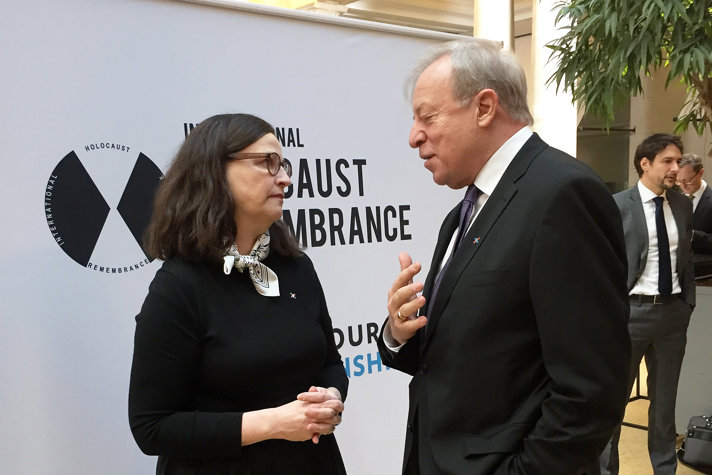 At this unique summit International Holocaust Remembrance Alliance (IHRA), together with the Government of Luxembourg, welcomed ministers and high-ranking government representatives from 35 countries to Brussels, to declare their commitment to fighting Holocaust distortion, antisemitism, antigypsyism and other forms of discrimination.
The ministerial meeting, at the Residence Palace Press Centre in Brussels, saw IHRA Member Countries adopt the IHRA 2020 Ministerial Declaration formed of 14 measures that underpin the ultimate objective of IHRA: to ensure the world remembers the Holocaust and work to contribute to a world without genocide.
- The Swedish Government welcomes this Declaration, which reaffirms the strong international support for the Stockholm Declaration's important messages. I consider it to be particularly important that this is taking place this year – 20 years since the Stockholm Conference – because it is the same year that we are hosting the Malmö International Forum on Holocaust Remembrance and Combating Antisemitism. The Government continues to strongly condemn and combat antisemitism and other forms of racism," said Ms Ekström.
The IHRA was established at the initiative of Sweden in 1998 by then Prime Minister Göran Persson.