This content was published in the period between 21 January 2019 and 8 July 2021.
Minister for Foreign Trade Anna Hallberg convenes trade policy expert group
Anna Hallberg has launched a trade policy advisory group to discuss how to shape future trade policy in light of the way the pandemic has changed international trade conditions. The members of the group have a wide range of experience from business, public authorities, trade unions, civil society and academia. The aim is to come up with new and different initiatives to enable trade to be an instrument of change.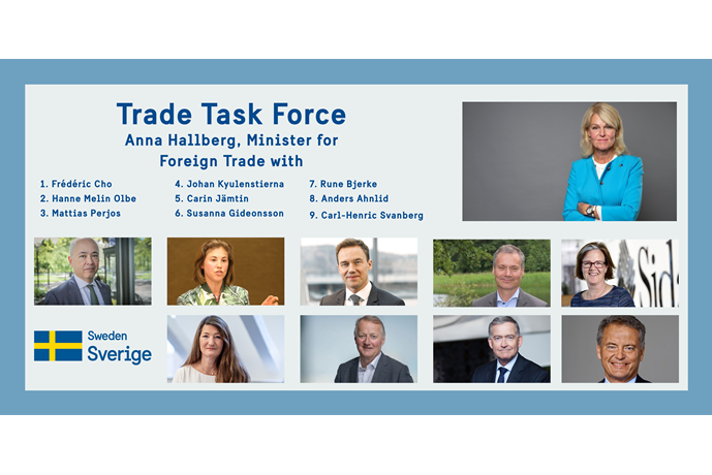 The topics for the first meeting held in October 2020 were EU trade policy review and Trade for Health. The second meeting in February 2021 discusses trade and sustainability in a broad perspective, encompassing environmental, climate, economic and social sustainability.
Core Members of the group are:
Carl-Henric Svanberg, Board Chairman of Volvo Group AB, Chair of the European Round Table for Industry and Chair of the Royal Swedish Academy of Engineering Sciences
Frédéric Cho, Vice Chairman of the Sweden-China Trade Council and founder of Frédéric Cho Advisory AB
Hanne Melin Olbe, Global Competition Counsel at eBay Inc and member of the European Commission's Strategic Policy Forum on Digital Entrepreneurship
Johan Kuylenstierna, Chair of the Swedish Climate Policy Council and former Executive Director of Stockholm Environment Institute
Mattias Perjos, President and CEO of Getinge
Rune Bjerke, Member of Norsk Hydro's board, member of the Norge mot 2025 committee and former CEO of DNB ASA
Susanna Gideonsson, President of the Swedish Trade Union Confederation (LO)
Anders Ahnlid, Director General of the National Board of Trade and former Ambassador of Sweden to Finland
Carin Jämtin, Director General of the Swedish International Development Cooperation Agency (Sida)

The international experts connected with the group are:
Deborah Elms, founder and Executive Director of the Asian Trade Centre and President of the Advisory Board of the Asia Business Trade Association
Gabriel Zucman, Associate Professor of Economics at the University of California, Berkeley
Gordon Brown, UN Special Envoy for Education and former Prime Minister of the United Kingdom
Martin Sandbu, European Economics Commentator at the Financial Times
Susan Schwab, Strategic Advisor in Mayer Brown's International Trade Practice and Trade Representative under President George W. Bush