This content was published in the period between 21 January 2019 and 8 July 2021
Ministers on this page who have left the Government
Between 3 October 2014 and 30 November 2021 he was Prime Minister.
Ministers on this page who have left the Government
Between 3 October 2014 and 30 November 2021 he was Prime Minister.
Vaccine coordination and a meeting with Joe Biden at video conference
Vaccines and COVID-19 coordination were the main items on the agenda when Prime Minister Stefan Löfven met with other EU leaders at a video conference on 25 March. The single market and digital transformation were also on the agenda. The conference ended with a meeting with US President Joe Biden.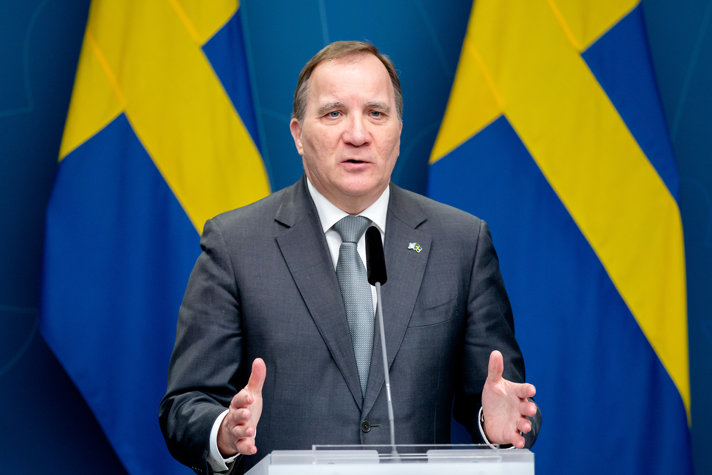 COVID-19 and vaccine coordination
The EU leaders had a general discussion about the COVID-19 situation in the Member States and the ongoing work to vaccinate their citizens.
- Access to vaccines is a critical issue and all countries naturally want their citizens to be vaccinated without delay. Of course I want Sweden to receive as many vaccine doses as possible and as fast as possible. But as the same time, it's crucial that vaccines are available throughout the EU and around the world. We're in the midst of a pandemic and no one is safe until everyone is safe, said Prime Minister Stefan Löfven after the meeting.
Meeting with President Biden
On Thursday evening, US President Joe Biden joined the video conference for a discussion on transatlantic relations.
- President Biden spoke of the need for EU-US cooperation on COVID-19, climate action, restarting the economy, and collaboration on democracy and values. President Biden emphasised that the highest priority now is to boost vaccine production and to vaccinate large numbers of people. He also said that the US will contribute to the COVAX vaccination programme as soon as possible, said Mr Löfven.
The single market and digital transformation
The single market is a recurring theme at the spring summits and this time the central issue was how digital transformation can strengthen the single market.
- We are in the throes of a digital transformation and it's important that Europe continue to develop its capacity to benefit as much as possible from the transformation, but this must be done in a smart way.
External relations and the Euro Summit
European Council President Charles Michel informed the EU leaders of his talks with Russian President Vladimir Putin ahead of a discussion on EU relations with Russia at a future physical meeting.
At the video conference of the members of the Euro Summit, EU leaders discussed the international role of the euro.