This content was published in the period between 21 January 2019 and 8 July 2021
International meeting on Task Force Takuba in Mali
On 7 April, the Minister for Defence Peter Hultqvist, together with defence ministers from several other participating countries, took part in an international digital meeting on Task Force Takuba, a multinational special forces task force to which Sweden is contributing a 150-strong unit.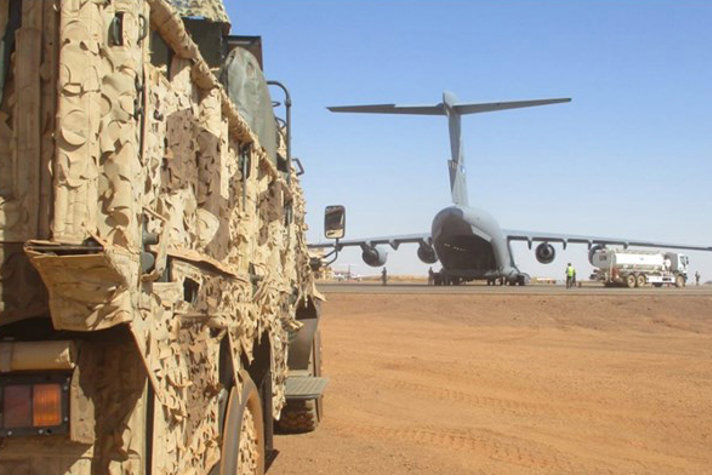 The meeting was led by French Minister for the Armed Forces Florence Parly, and the topics discussed included the security policy situation in the Sahel region and the status of the multinational task force. The ministers also discussed the possibilities of extending the task force's operations beyond 2021. Task Force Takuba, which has full operational capacity with the majority of the force on the ground in the area, includes military units from France, Estonia, Czechia, Italy and Sweden.
"Now that the task force is in place, we have reached an important milestone in the shared commitment within the framework of Task Force Takuba. Our troop contributions are intended to make a difference in Mali and the Sahel, and also help increase security in Europe," says Mr Hultqvist.
The Swedish contribution
In March 2020, the Riksdag approved the Government's proposal to send a Swedish unit to join Task Force Takuba in Mali. The unit has been in place since February 2021 and consists of a maximum of 150 troops on the ground in the deployment area. The Task Force has its own helicopters and capabilities for protection and surveillance. The contribution will also be able to provide assistance such as transport aircraft and qualified medical resources.
The Task Force works closely with the United Nations Multidimensional Integrated Stabilization Mission in Mali (MINUSMA) and the European Union Training Mission (EUTM) Mali, as well as the regional G5 Sahel Joint Force, which is also in the area.
"From a Swedish perspective, we are committed to trying to help increase security and sustainable development in the Sahel. Respect for human rights in all activities is essential for a successful mission," said Mr Hultqvist during the meeting.
On 8 April, the Danish Government announced that Denmark intends to send a 150-strong unit to Task Force Takuba. The Danish contribution will consist of a special forces unit, medical staff and staff officers. If Denmark's Parliament approves the proposal, the Danish troops will be deployed to Mali in early 2022.