This content was published in the period between
-
Belarus and climate action key issues at the EU Summit
Discussions at the special meeting of the European Council on 24 May were dominated by the events in Belarus involving the forced landing of a passenger plane in Minsk to detain a journalist. The EU leaders also discussed the situation in Russia. On 25 May, discussions mainly centred on EU climate action and vaccine coordination.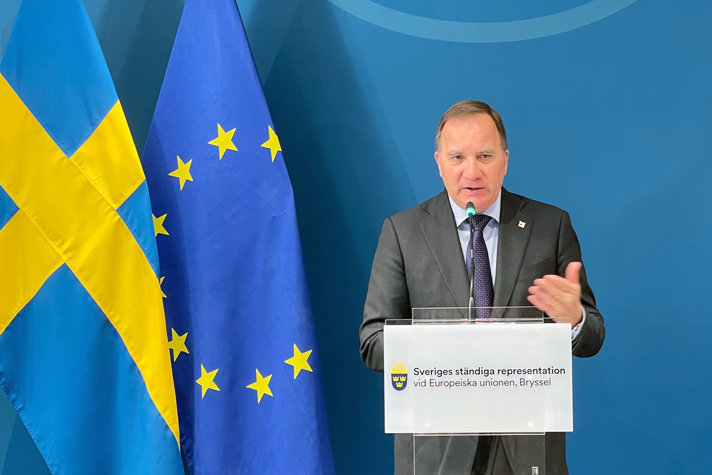 Events in Belarus
The Council meeting opened with a discussion on the recent events in Belarus involving the forced landing of a commercial flight.
- As you know, the European Council decided last night on a range of measures against Belarus, and we demand the immediate release of Raman Pratasevich and Sofia Sapega, the two people detained when the plane landed, said Prime Minister Stefan Löfven at a press briefing on Tuesday morning.
- We also decided to call for an international investigation, adopt further sanctions both through listings of persons and entities and targeted economic sanctions, call on EU Member States to suspend overflights of Belarusian airspace, and prevent access to EU airports of flights operated by Belarusian airlines. It's encouraging that we could quickly agree on clear and resolute measures by the EU, fully in line with Sweden's demands, added Mr Löfven.
The situation in Russia
The EU leaders also discussed the situation in Russia.
- Many, myself included, emphasised the importance of the EU Member States being united on the issue of Russia. We'll continue our discussions on this issue at the next European Council in June.
COVID-19 vaccine coordination
The EU leaders engaged in a general discussion on COVID-19 vaccination and the COVID-19 situation in the Member States and globally.
- The EU is continuing its work to ensure global access to COVID-19 vaccines. It is the leading exporter of vaccines around the world, but we've also purchased more vaccine doses than we need. Today we agreed to donate at least 100 million doses by the end of the year. This is an important step. Sweden will contribute 3 million surplus vaccine doses, said Mr Löfven after the meeting.
EU climate action
The European Council previously agreed on a binding EU target of a reduction in carbon emissions of at least 55 per cent by 2030 and climate neutrality by 2050.
- Efforts to implement the EU's climate goals and fulfil our commitments under the Paris Agreement continue. We must maintain a high level of ambition and every country must contribute to the EU becoming climate neutral by 2050, said Mr Löfven.