This content was published in the period between 21 January 2019 and 8 July 2021
High-level panel discussion on European security and the Joint Expeditionary Force with the Swedish Minister for Defence
On 13 May, Sweden's Minister for Defence Peter Hultqvist participated in a panel discussion on the Joint Expeditionary Force (JEF) and European security. The Minister highlighted the importance of bilateral and multilateral cooperation to building security and stability in Europe, and underlined the role of JEF in this.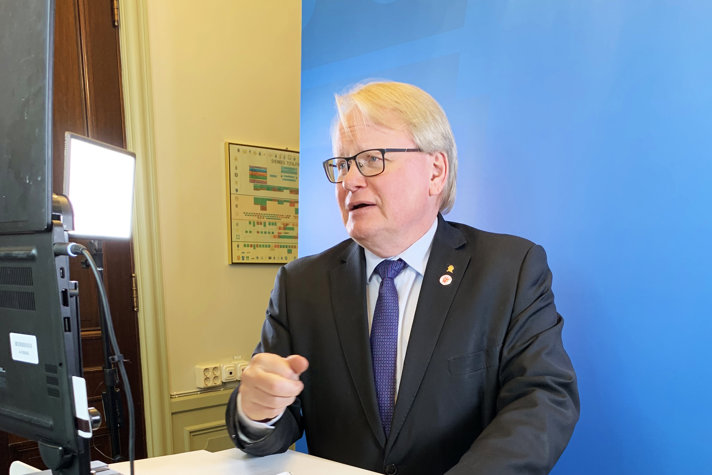 The JEF was initiated by the United Kingdom in 2014. In addition to Sweden, the UK-led JEF now includes Denmark, Estonia, Finland, Iceland, Latvia, Lithuania, the Netherlands and Norway.
A high priority for Sweden
– The Joint Expeditionary Force is a high priority for Sweden as it is a coalition of likeminded partners who share the same view of security challenges in northern Europe. We see that the security situation in our neighbourhood and in Europe has deteriorated over time. When Moscow shows preparedness to use military force, even if it would violate international law, it inevitably affects us all, said Peter Hultqvist at the digital event arranged by the public policy think tank American Enterprise Institute.
Mr Hultqvist was joined by Artis Pabriks, the Latvian Minister for Defence, Martin Herem, the Commander of the Estonian Defence Forces, Nick Carter, the Chief of the Defence Staff at the UK Ministry of Defence, and Mike Turner from the US House of Representatives Armed Services Committee.
Complements other forms of cooperation
– By working together with others, both bilaterally and multilaterally, we are building security and stability in our part of Europe. By making it clear that an attack would entail a high cost for the attacker, a stronger defence is a deterrent to those who would wish to attack or exert pressure with military force, Mr Hultqvist continued.
– With the JEF, we are signalling that we are taking responsibility for the security situation in our neighbourhood.
The Swedish Minister for Defence emphasised that the JEF is a quick reaction force, able to respond to sudden crises, which complements other forms of cooperation such as within the EU or NATO.
– JEF can also, when needed, be used as a basis for cooperation with the United States or Canada, said Mr Hultqvist at the event.
The seminar was live-streamed on 13 May.