Swedish Civil Contingencies Agency to run broad information campaign for increased IT security
On Tuesday 1 March, Minister for Justice and Home Affairs Morgan Johansson held a press conference on cyber security preparedness in light of Russia's invasion of Ukraine. Director General of the Swedish Civil Contingencies Agency Charlotte Petri Gornitzka and Head of the Swedish Security Service Charlotte von Essen also took part.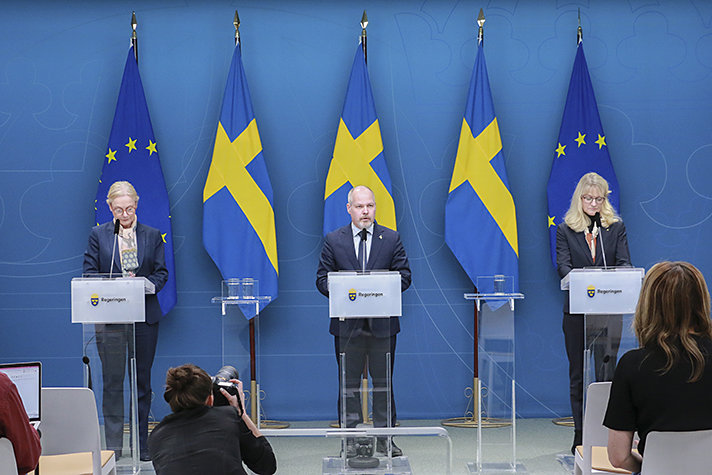 "We know that Russia has extensive capabilities to conduct cyber attacks against countries, companies and public authorities. Even if Sweden is not a primary target, it can't be ruled out that we won't be affected, and we must have contingency plans prepared," said Minister for Justice and Home Affairs Morgan Johansson.
To increase public preparedness and awareness regarding cyber security, the Government, together with the Swedish Police Authority, will task the Swedish Civil Contingencies Agency with conducting a broad public information campaign. The campaign will provide information on what each of us can do here and now to increase our own information and cyber security. The government will return to the Parliament with a proposal to allocate SEK 40 million for this purpose. Planning of the campaign will begin immediately.
The Government and Swedish public authorities are closely following developments. Swedish public authorities have intensified their national and international information exchanges.
Ms von Essen stated that the security situation in Europe has seriously deteriorated and that events are unfolding rapidly. At present, there is no concrete information on an increased threat to Sweden's internal security, but the unfolding events are complex and serious, and could affect Sweden's security in the long term.
The Swedish Civil Contingencies Agency supports the coordination of relevant authorities in the event of a crisis or increased preparedness. The Agency also supports society's efforts to manage information and cyber security incidents. Ms Gornitzka reported on the contingency planning that has been prepared and the cooperation taking place with other actors. She also encouraged extra vigilance in light of the security situation.