Special meeting of the European Council, 30–31 May
The European Council is holding a special meeting in Brussels on 30–31 May. A number of issues related to Russia's invasion of Ukraine are expected to be discussed. These include continued EU support to Ukraine, energy and food security. Prime Minister Magdalena Andersson is representing Sweden.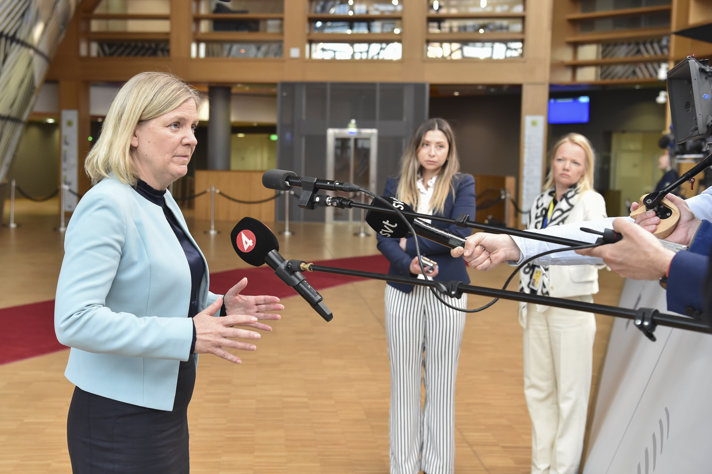 The situation in Ukraine
The meeting will begin with a discussion on the situation in Ukraine, where questions concerning the country's liquidity problem and EU support for the country's reconstruction will also be discussed. Ukraine's President Volodymyr Zelenskyy will take part in the beginning of the discussion via video link.
Energy
At its meeting in March, EU leaders called on the European Commission to develop an action plan to phase out the EU's dependence on Russian energy imports and thereby also reduce its dependence on fossil fuels. The European Commission presented the action plan, REPowerEU, on 18 May. It has three main components – more diversified energy imports, faster expansion of renewables and saving energy.
EU leaders are expected to discuss matters such as electricity market initiatives to hold back rising electricity prices and achieving targets that have been set for energy efficiency and renewables.
Food
EU leaders are expected to highlight the food security situation and price trends in light of the fact that Ukraine, a major supplier of agricultural products, is being stopped by Russia from exporting to the world market. The discussion will focus on what help the EU can provide using European infrastructure and coordination.
Chair of the African Union Macky Sall will take part in the discussion via video link.
Security and defence
EU leaders will discuss how EU countries can jointly continue working on better coordination and development of defence industries and defence-related technologies in the EU.