Results strategy for Bangladesh 2014–2020
Reference No.: UF2014/51155/UD/ASO and UD2018/06988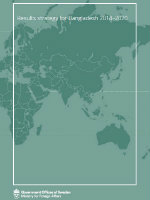 This results strategy covers the period 2014–2020 and comprises a total of SEK 1.9 billion. The aim is to contribute to improving the conditions for people to raise themselves out of poverty, strengthening democracy, respect for human rights and gender equality, and to contribute to sustainable development.
Download:
Actions under the strategy are expected to contribute to the achievement of sub-objectives 1, 2, 3 and 4 in the Government's aid policy framework (Government Communication 2013/14:131). The activities are expected to produce the following results:
Strengthened democracy and gender equality, greater respect
for human rights and freedom from oppression (sub-objective 1)
Enhanced capacity to practise democratic governance, with a
focus on transparency and combating corruption.
Enhanced capacity of public institutions to combat violence against women.
Enhanced capacity of civil society to work towards greater accountability and contribute to knowledge about democracy, gender equality (including violence against women), and human rights.
Better opportunities for people living in poverty to contribute to and benefit from economic growth and obtain a good education
(sub-objective 2)
Greater opportunities for women to participate on the labour market.
Improved dialogue between social partners on the labour market.
A better environment, limited climate impact and greater resilience to environmental impact, climate change and natural disasters (sub-objective 3)
Greater resilience and flexibility to deal with climate change, environmental impacts and natural disasters in vulnerable areas,
including improved disaster management systems.
Strengthened institutional capacity among authorities and other actors to better manage water resources in particularly neglected and vulnerable areas.

Improved basic health, focusing particularly on women and children, sexual and reproductive health and rights (sub-objective 4)
Reduced mortality in children under the age of 5.
More women with access to good maternal health care.
More people with access to sexual and reproductive health and rights.
Better access to sustainable and resilient community water, sanitation and hygiene services.
Strengthened capacity to prevent crises, conflicts and disasters, and increased resilience (sub-objective 5)
Focus on vulnerable groups in refugee reception areas, among host communities and Rohingya refugees, especially women and children.