Supplementary strategy for the Folke Bernadotte Academy Development cooperation and peace support operations in Afghanistan 2018–2019
Reference No.: UD2018/06250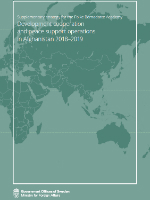 Within the framework of this strategy, the remit of the Folke Bernadotte Academy (FBA) will complement the results strategy for Sweden's development cooperation with Afghanistan for 2014–2019 and help to enhance the capacity for peaceful and inclusive social development in Afghanistan.
Download:
Afghanistan is one of the world's poorest countries, with almost 40 per cent of its population living in extreme poverty. Over the last 40 years, the country has been plagued by armed conflict. The serious security situation affects all aspects of life for the Afghan people and impedes sustainable development as set out in the 2030 Agenda.
Many of the root causes of the conflicts are at the local level, related to the distribution of power and resources, coupled with a weak justice system and police force. The Afghan Government is working to ensure that peace efforts are Afghan-led and Afghan-owned;
this is supported by the international community. Regional disputes, corruption, organised crime and support to armed groups undermine peace efforts.
A range of Afghan, international and regional initiatives are in place that could contribute in different ways to future peace process in Afghanistan. Afghanistan lacks both a united civil society peace movement and a strong women's peace movement. Few women participate meaningfully in formal Afghan structures associated with conflict prevention and peacebuilding. Women's ability to contribute is limited by conservative social norms and lack of rights, and further limited by poverty, inequality and the security situation. Men's engagement and responsibility for gender equality are essential to further women's empowerment.
The activities of the Folke Bernadotte Academy, with a total value
of SEK 10.6 million, will be conducted in 2018–2019 and contribute to the following goals:
Women have increased knowledge and stronger networks, and are better organised to take part in and influence peace efforts.
Parties in Afghan-led peace efforts have increased capacity to identify opportunities for dialogue and mediation, and to contribute to dialogue and mediation processes.