Ministry for Foreign Affairs
The Ministry for Foreign Affairs and Sweden's missions abroad are responsible for Sweden's foreign, development cooperation and trade policy.
Responsible ministers
Isabella Lövin
Minister for International Development Cooperation and Climate, and Deputy Prime Minister
News from Ministry for Foreign Affairs
Stockholm Agreement gives hope of peaceful solution in Yemen

During eight intensive days, the eyes of the world were trained on Rimbo, where UN Special Envoy Martin Griffiths led consultations with the parties to the conflict in Yemen. The delegations from the two parties, the Government of Yemen and Ansar Allah, agreed on Thursday 13 December in the 'Stockholm Agreement' to a ceasefire in the port city of Hodeidah. The parties have agreed to withdraw their troops from Hodeidah and for the port to be managed and monitored with UN support, which will enable the import of vital provisions to the country. The Stockholm Agreement also includes a prisoner exchange and steps towards a ceasefire in the city of Taiz.

#StandUp4HumanRights in focus as the Ministry for Foreign Affairs marks the 70th anniversary of the Universal Declaration of Human Rights

On 10 December, the Universal Declaration of Human Rights celebrates its 70th anniversary. But democracy and human rights are still under threat around the world. Via the #StandUp4HumanRights communications campaign, the MFA in Stockholm, missions abroad and partners are highlighting human rights in various ways – with the aim of creating opinion and reminding decision-makers to live up to their commitments.
Sweden in the UN Security Council
Sweden is a non-permanent member of the UN Security Council in 2017–2018. As an open country that is dependent on the rest of the world, it is in Sweden's interests to contribute to and defend the international order, at the heart of which lie the United Nations and the Security Council.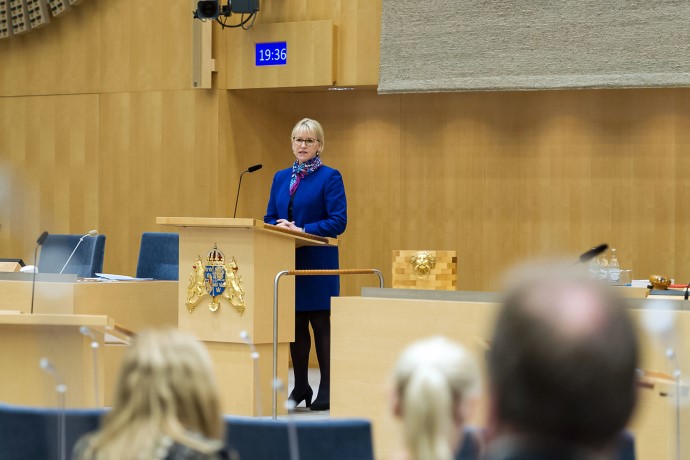 Statement of Foreign Policy 2018
On Wednesday 14 February 2018, Minister for Foreign Affairs Margot Wallström presented the Statement of Foreign Policy to the Riksdag.
Feminist foreign policy
Equality between women and men is a fundamental aim of Swedish foreign policy. Ensuring that women and girls can enjoy their fundamental human rights is both an obligation within the framework of our international commitments, and a prerequisite for reaching Sweden's broader foreign policy goals on peace, and security and sustainable development.
Keyboard navigation in the search filter is done by using a combination of the TAB, ENTER, and ARROW keys. Start by pressing the TAB key to enter the filter module. Use the arrow keys to move between tabs. To select a desired tab, use the TAB key.
Help: get help with the filter