Ministry for Foreign Affairs
The Ministry for Foreign Affairs and Sweden's missions abroad are responsible for Sweden's foreign, development cooperation and trade policy.
News from Ministry for Foreign Affairs
UN High Commissioner for Refugees Filippo Grandi visits Sweden

This week, United Nations High Commissioner for Refugees Filippo Grandi is spending two days in Stockholm. During his visit he will meet Prime Minister Stefan Löfven,Minister for Justice and Migration Morgan Johansson, Minister for Foreign Affairs Ann Linde and Minister for International Development Cooperation Peter Eriksson. Yesterday he also took part in an evening discussion at the Swedish Institute of International Affairs together with State Secretary Per Olsson Fridh about how we can best deal with long-term humanitarian crises. The talks in Stockholm will focus on both urgent humanitarian crises and more strategic issues such as the financing of the UNHCR and implementation of the Global Compact on Refugees.

#GirlsTakeover – a global initiative to promote girls' rights and highlight their agency

Within the context of Sweden's feminist foreign policy, the Ministry for Foreign Affairs is taking part in the global #GirlsTakeover campaign. Through this campaign – an initiative of Plan International – girls all over the world will step into a leadership role on 11 October in connection with International Day of the Girl Child.
Sweden in the UN Security Council
After being elected by a wide margin to the United Nations Security Council, Sweden was a non-permanent member of the Council for the 2017–2018 term. As a principled member of the United Nations Security Council, Sweden took its cue from the foundation stones of international law, human rights, gender equality and a humanitarian perspective. The Swedish working method was characterised by listening, creativity, active diplomacy and an ambition to achieve results.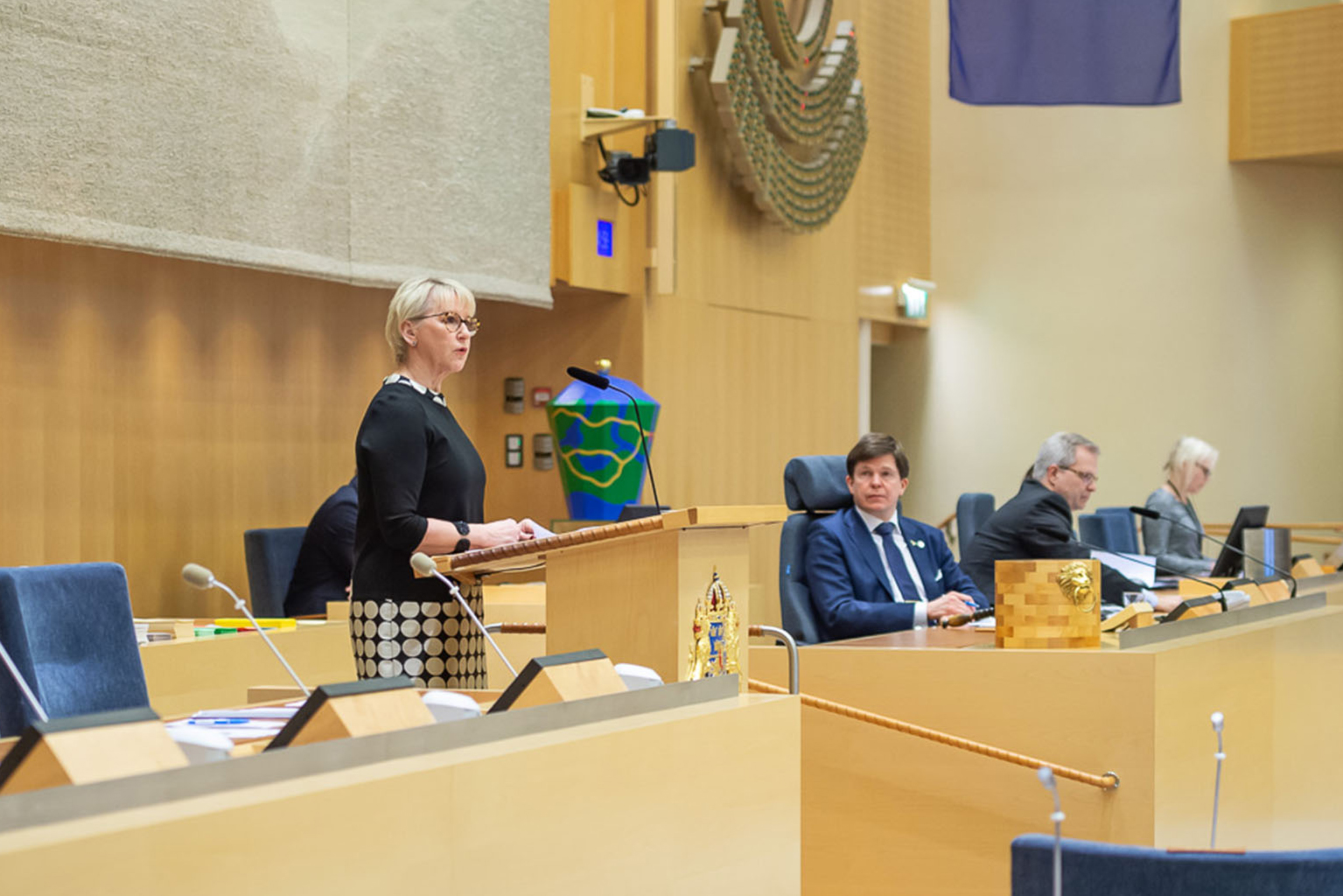 The Government's Statement of Foreign Policy 2019
Priorities and goals of the Government's foreign policy.
Feminist foreign policy
Equality between women and men is a fundamental aim of Swedish foreign policy. Ensuring that women and girls can enjoy their fundamental human rights is both an obligation within the framework of our international commitments, and a prerequisite for reaching Sweden's broader foreign policy goals on peace, and security and sustainable development.
Content from the Ministry for Foreign Affairs
Total 1535 hits.
The Government's continued work for nuclear disarmament

The threat posed by nuclear weapons is greater now than for several decades. A number of states are modernising their arsenals, and the lack of trust between states is an urgent problem. Nuclear disarmament is therefore a key priority of the Government's foreign and security policy. The Government observes that the UN Treaty on the Prohibition of Nuclear Weapons (TPNW) in its current form is not ready for signing. The Government will refrain from signing or pursuing ratification of the TPNW at the present time. However, nuclear disarmament efforts continue through a number of different initiatives.

Sweden and the HLPF 2019

The UN High-Level Political Forum on Sustainable development will meet in New York on 9-18 July 2019.

Key acts and ordinances entering into force in mid-2019

This compilation contains a selection of acts and ordinances – both new and amended – that enter into force in mid-2019

· Information material from Ministry for Foreign Affairs, Ministry of Culture, Ministry of Defence, Ministry of Education and Research, Ministry of Employment, Ministry of Enterprise and Innovation, Ministry of Finance, Ministry of Health and Social Affairs, Ministry of Infrastructure, Ministry of Justice, Ministry of the Environment, Prime Minister's Office

Sweden to host a youth perspective conference in the Barents region

On 12 June, young people from Sweden, Finland, Norway and Russia will meet in Luleå together with national and regional representatives and experts in the framework of the Swedish Chairmanship of the Barents Euro Arctic Council to discuss concrete and forward-looking proposals to increase youth engagement and influence in the Barents region.

Internet freedom in decline – a threat to our democracy

The internet must not be a place where hate campaigns and disinformation take over the flow of information. We must have clear requirements for large corporations that dominate social media globally. It is in everyone's interest that we do not leave the responsibility for our public debate and meeting places to companies, write Carin Jämtin, Margot Wallström and Peter Eriksson.