Ministry for Foreign Affairs
The Ministry for Foreign Affairs and Sweden's missions abroad are responsible for Sweden's foreign, development cooperation and trade policy.
Responsible ministers
Anna Hallberg
Minister for Foreign Trade, with responsibility for Nordic Affairs
News from Ministry for Foreign Affairs
The Government to take part in opening of UN General Assembly 17–30 September

Next week, Prime Minister Stefan Löfven, Minister for Environment and Climate, and Deputy Prime Minister, Isabella Lövin, Minister for Foreign Affairs Ann Linde and Minister for International Development Cooperation Peter Eriksson will travel to New York for the opening of the UN General Assembly.

Prime Minister Löfven will also take part in the Climate Action Summit ."Sweden will be the world's first fossile free welfare nation", he says ahead of the summit.

New ministers in the Government

On Tuesday 10 September, Prime Minister Stefan Löfven presented changes within the Government. New Minister for Foreign Affairs and head of the Ministry for Foreign Affairs is Ann Linde. New Minister for Foreign Trade, with responsibility for Nordic affairs is Anna Hallberg.
Sweden in the UN Security Council
After being elected by a wide margin to the United Nations Security Council, Sweden was a non-permanent member of the Council for the 2017–2018 term. As a principled member of the United Nations Security Council, Sweden took its cue from the foundation stones of international law, human rights, gender equality and a humanitarian perspective. The Swedish working method was characterised by listening, creativity, active diplomacy and an ambition to achieve results.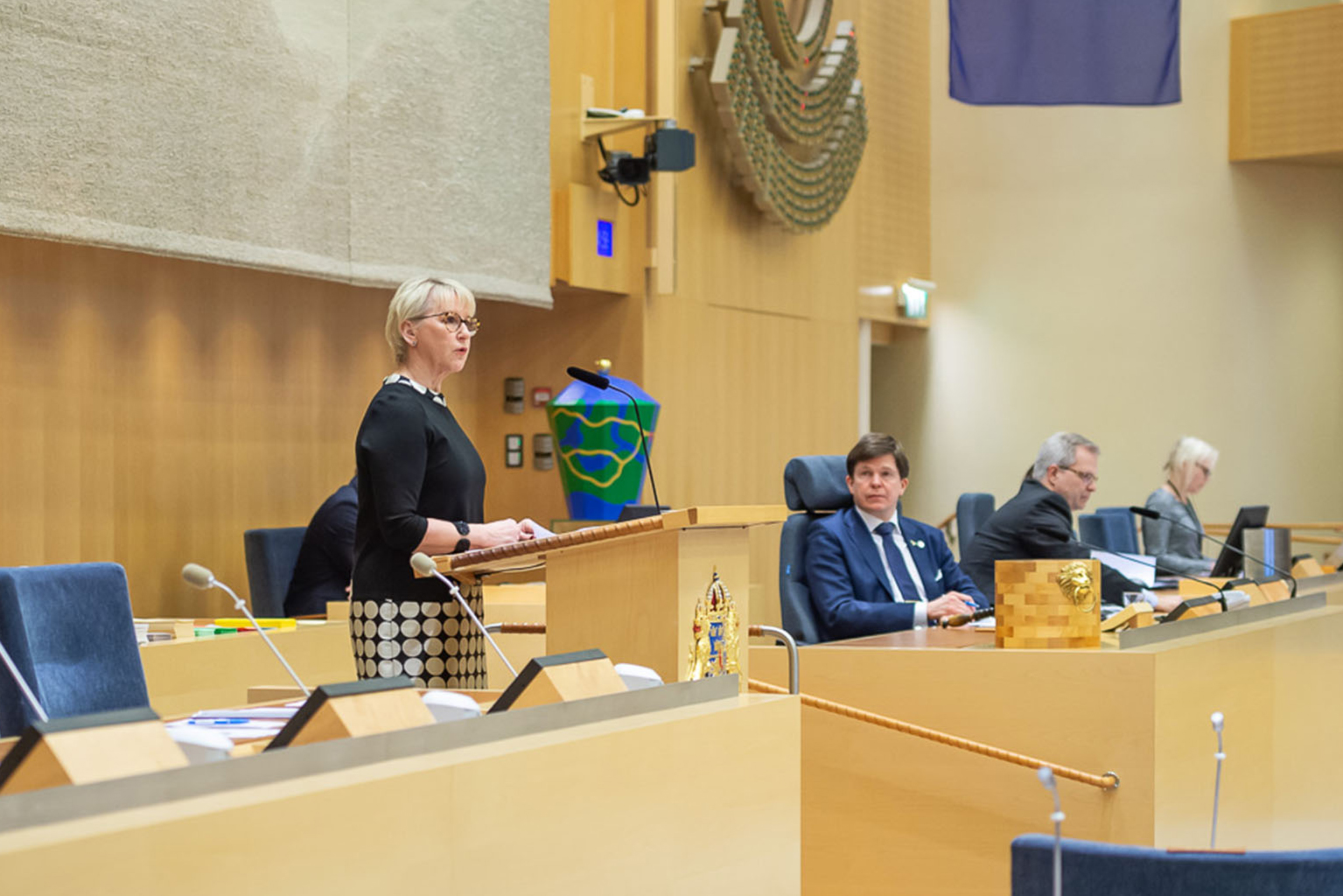 The Government's Statement of Foreign Policy 2019
Priorities and goals of the Government's foreign policy.
Feminist foreign policy
Equality between women and men is a fundamental aim of Swedish foreign policy. Ensuring that women and girls can enjoy their fundamental human rights is both an obligation within the framework of our international commitments, and a prerequisite for reaching Sweden's broader foreign policy goals on peace, and security and sustainable development.
Content from the Ministry for Foreign Affairs
Total 1517 hits.
Communiqué at Ministerial Strategic Dialogue on UNRWA on 12 April in Stockholm

Foreign Ministers H.E Margot Wallström of Sweden and H.E Ayman Safadi of Jordan hosted a ministerial strategic dialogue in Stockholm today to discuss sustainable ways to support the United Nations Relief and Works Agency for Palestine Refugees in the Near East (UNRWA). Participants included representatives from Egypt, France, Germany, Japan, Kuwait, Norway, United Kingdom, the European External Action Service and the European Commission. The meeting was attended by UNRWA Commissioner-General Pierre Krähenbühl, who presented UNRWA's continued vital programmes to assist over 5 million Palestinian refugees despite the financial challenges which the Agency faced in 2018.

State Visit to Ireland

King Carl XVI Gustaf and Queen Silvia will pay a State Visit to Ireland on 22–24 May 2019 at the invitation of President Michael D. Higgins.

SEK 500 million to Green Climate Fund brought forward

Increased access to renewable energy through development cooperation is crucial, both for reduced climate impact and the transition to a climate-smart society, and also for sustainable economic development. Through an amendment to appropriation directions, the Government is investing in greater speed and quality in climate efforts.

Facts about migration, integration and crime in Sweden

Simplistic and occasionally inaccurate information about migration, integration and crime in Sweden is sometimes disseminated. Here, the Ministry for Foreign Affairs looks at some common claims. The government agencies in Sweden that are responsible for collecting data and statistics on matters such as migration, integration and crime are the Swedish Migration Agency, the Swedish public employment service, the Swedish Police Authority and the Swedish National Council for Crime Prevention (Brå). The information below is therefore largely a presentation of data collected by these agencies and international organisations.