A Feminist Government
Sweden has the first feminist government in the world. This means that gender equality is central to the Government's priorities – in decision-making and resource allocation. A feminist government ensures that a gender equality perspective is brought into policy-making on a broad front, both nationally and internationally. Women and men must have the same power to shape society and their own lives. This is a human right and a matter of democracy and justice.

Gender equality is also part of the solution to society's challenges and a matter of course in a modern welfare state – for justice and economic development. The Government's most important tool for implementing feminist policy is gender mainstreaming, of which gender-responsive budgeting is an important component.
Feminist policy must make a difference in people's daily lives and experiences
The Government's gender equality work is more important than ever
Sweden has the first feminist Government in the world. Gender equality is central to the Government's priorities – in decision-making and resource allocation. The Government's gender equality work is based on six objectives. It addresses power and influence, gender equality in economy and education, and the equal distribution of unpaid housework and provision of care. It is also about gender equality in health and ending men's violence against women. In brief, it is about gender equality in all facets of life and society.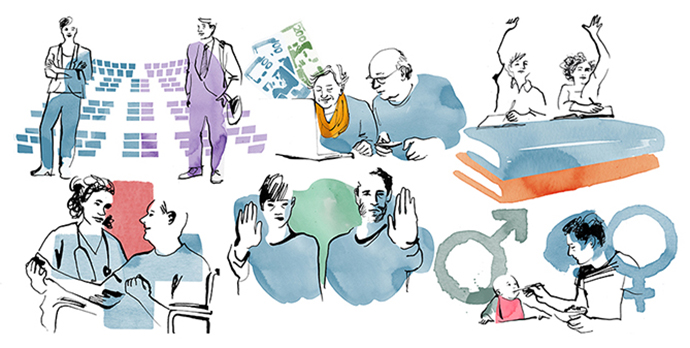 The Governments sub-targets for gender equality
Gender-equality – central to the Swedish Government's policy-making
Feminist policy for a gender-equal society
Prime Minister Stefan Löfven: "It is with strength and pride that I continue to lead the work of our feminist government. This work obliges all government ministers to contribute to the development and implementation of policy that gives women and men, girls and boys the same power to shape society and their own lives. This is how we build a stronger society and a safer Sweden. "
Women and men must have equal power to shape society and their own lives.
Minister for Gender Equality and Housing with responsibility for urban development, anti-segregation and anti-discrimination Märta Stenevi: "Sweden is one of the most gender-equal countries in the world – but we can never take this for granted. Women and men must have equal power to shape society and their own lives. We must continue to fight so that every women can live a life in security, free from violence and oppression. We must do more to reduce the gender gap in lifetime earnings. We have work to do together, in all policy areas and throughout society."
Feminist foreign policy
Minister for Foreign Affairs Ann Linde: "During the five years that Sweden has been pursuing a feminist foreign policy, it has become clear that it is needed and that it works. It is needed because women are in a worse position than men throughout the world – in terms of rights, representation and resources. Experience also shows that it is working. Sweden has made a difference to millions of women's lives, including through our support to sexual and reproductive health and rights, our engagement for women's participation in peace processes and our efforts to promote women's social and economic rights. Interest from around the world is great and a number of countries have been inspired by us, including France, Canada and Mexico. I will continue to pursue the feminist foreign policy wholeheartedly throughout the world."
Gender equality contributes to economic development
Minister for Finance Magdalena Andersson: "Getting more women born abroad into work is important for the economy, but even more important for gender equality. No matter where you were born, you have the right to make the same journey towards self-determination through your own income, as many women did in Sweden in the 1950s, 60s and 70s."
Stronger gender-equality in the welfare sector
Minister for Health and Social Affairs Lena Hallengren: "Universal welfare has been and remains crucial for Sweden's successful gender equality work. Our country must provide the highest quality health care and care of older people. We want to strengthen maternity care and women's health to achieve greater gender equality in health care and health equity across the population. The majority of workers in the welfare sector are women and it's their hard work that keeps Sweden running."
It is men who must change
Minister for Justice and Migration Morgan Johansson: "Last term of office, the most stringent legislation on sexual crime Sweden has ever had was introduced. Sweden now has a Consent Act, tougher penalties and better support for victims of crime. We also need more early measures to prevent violence, and we need to continue supporting women's shelters and victim support groups. If men's sexual harassment and sexual offences against women are to cease, it is men who must change."
Half the power, full pay
Minister for Employment Eva Nordmark: "A gender-equal working life is a necessary condition for Sweden's future development. Parental responsibility must be divided equally and everyone must be able to combine career and family. We must continue our vigorous efforts to tackle the inequality that leads to women having a higher rate of sickness absence than men. This applies to both the physical and the psychosocial work environment."
Gender equality is needed in climate adaptation and the green recovery
Minister for Environment and Climate, and Deputy Prime Minister Per Bolund: "The environment and sustainability are very much a question of gender equality. Girls and women throughout the world are hard hit by climate change and negative environmental impacts – such as air and water pollution and biodiversity degradation. When the planet's future is at stake, it concerns us all. And yet, half of humankind – women – is underrepresented where decision-making takes place. When decisions are made and resources distributed with a gender perspective, we can achieve a just reorganisation of our societies and shape a future for everyone."
Gender inequality in society affects us our whole lives
Minister for Social Security Ardalan Shekarabi. "Gender inequality affects people throughout their lives. We must achieve more gender-equal responsibility for children and families, increase gender equality in the labour market so that women are not overrepresented in ill health statistics, and reduce the pay gap between women and men to even out the differences in pensions. The struggle for a gender-equal society must continue throughout all phases of life."
Feminist trade policy
Minister for Foreign Trade, with responsibility for Nordic affairs Anna Hallberg: "Investing in equality is smart. Excluding women from economic opportunities is probably the biggest waste in the world. As well as being smart and right, gender equality is also good for the economy. When women participate in the labour market as employees or entrepreneurs, their power over their own lives increases and the whole of society is strengthened. Sweden will pursue a feminist trade policy. This means that a gender analysis must be applied to all trade agreements."
Feminist development policy
Minister for International Development Cooperation Per Olsson Fridh: "Women and girls are still subjected to systematic discrimination and subjugation throughout the world. Moreover, gender inequality, men's violence against women and intimate partner violence have increased as a consequence of COVID-19. We cannot accept gender equality gains being reversed. Sweden's feminist foreign policy and development cooperation policy act as a counterweight and are essential for countless women and girls. I am proud to represent Sweden's feminist Government and I will continue to pursue these issues wholeheartedly."
Sweden must be the most gender-equal country in the world
Minister for Infrastructure Tomas Eneroth: "The transport sector must be more gender-equal. Pursuing gender equality efforts is not just the right thing to do, it is also a matter of survival for the entire sector. This involves creating the conditions for more women to discover the shipping, aviation, railway and road haulage industries. This is where people should want to apply, develop and remain. The sector has to increase the pace of this. I will not tire of reminding people of this. Sweden must be the most gender-equal country in the world."
Zero tolerance of sexual harassment applies to all
Minister for Higher Education and Research Matilda Ernkrans: "Me too has shed light on sexual harassment and abuses. There are far too many precarious jobs at universities and other higher education institutions, and research shows that this makes women particularly vulnerable. Too many women keep quiet about harassment so as not to jeopardise their own career or education. People must be able to speak up in academia so that irregularities are uncovered and immediate action is taken. Zero tolerance of sexual harassment must of course apply to both students and staff. I want to create safe higher education institutions in which women and men can work on equal terms and have the same opportunities to enjoy an academic career."
Active gender equality efforts are a given in a modern central government administration
Minister for Public Administration Lena Micko: "As the person responsible for central government employer policy, I'm proud that the proportion of women managers in central government administration continues to increase, and that the proportion of women working part-time in central government is decreasing. The gender pay gap between central government employees has more than halved since the turn of the millennium, but there is still a lot to do when it comes to gender equality. It's obvious to me that central government, as an employer, must be characterised by active gender equality efforts."
Women's lack of security is one of the biggest gender equality challenges of our time
Minister for Home Affairs Mikael Damberg: "For women and men to have the same power to shape society and their own lives, it is crucial that we all feel free to live exactly as we wish. Unfortunately this is not the situation today, when women are the ones who feel most unsafe and the proportion of women who say that they have been subjected to sexual crime is increasing. Putting an end to men's violence against women and improving women's safety is therefore absolutely crucial if we are to achieve the gender equality policy objectives. The way to achieve this involves more police employees and giving the police better and sharper tools in the form of effective and necessary legislation."
Our democracy is founded on principles of equal rights for all
Minister for Culture and Democracy with responsibility for sport Amanda Lind: "Gender equality is a prerequisite for all people having equal rights and opportunities. The Me too movement showed that there is a long way to go until this is a reality. We have a great deal of work left to do to permanently break the culture of silence and to put an end to discrimination, sexual harassment and abuse. In Sweden, it shouldn't matter who you are – you should have the opportunity to take part in our democracy, express your opinions and practice and experience culture and sport."
State-owned companies are showing the way on gender equality
Minister for Enterprise Ibrahim Baylan: "Gender equality and sustainability are areas in which the Government has shown the way in its governance of state-owned companies. The portfolio of state-owned companies is currently perhaps one of the world's most gender-equal in terms of make-up of governing boards. The issue of gender equality is important for a dynamic and successful business sector. I want to continue pushing for state-owned companies to make use of the skills of both women and men, as well as people with different backgrounds and experience."
Equal conditions throughout the country – for all
Minister for Rural Affairs Jennie Nilsson: "For me it is a given that the conditions for living and working throughout the country should be equal – regardless of sex or where in the country you live. Together we must improve gender equality in several sectors in my area of responsibility, strengthen welfare in rural areas and ensure that more people – not least women – are able to live and work in Sweden's rural areas."
Equal rights and obligations
Minister for Defence Peter Hultqvist: "Gender equality is as much about equal rights as it is about equal obligations. The fact that the reactivated national total defence service is equal for both men and women is very positive. This is both right in itself, and leads to a better and stronger defence."
Strengthened gender economic equality
Minister for Financial Markets and Deputy Minister for Finance Åsa Lindhagen: "Women and men have different economic opportunities. Their lifetime earnings differ by several million Swedish kronor and men's capital income is, on average, twice as high as women's. As long as it remains this way, we have a long way to go to achieve a gender-equal society in which everyone can live their lives in freedom and security. Efforts to achieve gender economic gender must be stepped up."
Education free from restrictive gender roles
Minister for Education Anna Ekström: "Everyone is entitled to education. Every individual should be able to shape their life without being held back by restrictive gender roles."
A Europe where everyone has the same opportunities
Minister for EU Affairs Hans Dahlgren: "I want a Europe where no one questions the place of women in the labour market. Where girls and boys have the same opportunities and where the conditions are gender equal. The principle of gender equality is a given in European cooperation, but the EU can do even better. Decisions taken in the EU affect all citizens, and gender equality must be factored into them. Gender equality aspects must be considered in both work on the budget and in concrete legislative proposals. I will continue my efforts to strengthen the gender perspective in all of the EU's policy areas."
More women on our IT education programmes
Minister for Energy and Digital Development Anders Ygeman:"Sweden is a successful country within digitalisation, but to retain our position we need more digital specialists. An important part of achieving this is working to ensure that more women choose to study on IT education programmes. We need to highlight the women role models working in this area today, and we need more of them. Everyone's skills are needed for Sweden to be best in the world at using the opportunities of digitalisation. "
Content about A Feminist Government