This content was published in the period between 21 January 2019 and 8 July 2021.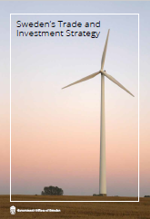 The Government, the Centre Party and the Liberal Party committed in the 2019 January Agreement to implementing an export initiative for more jobs throughout the country and to updatet he existing export strategy with a focus on economic, social and environmental sustainability.


Download:
To meet the new international challenges that both influence the conditions for global trade and create opportunities for internationalisation of Swedish business, five strategic goals have been formulated to guide the updated Trade and Investment Strategy:
Increase Sweden's exports, both in absolute figures and as a share of GDP
Ensure that more small and medium-sized enterprises export
Ensure that Sweden is a driving force for free, sustainable and fair international trade
Use Sweden's innovation leadership to enhance the export capabilities and international competitiveness of Swedishbusiness
Increase Sweden's attractiveness to foreign investments, skills, talent and visitors.