Press release from
Countries and business leaders agree to draft roadmaps to zero emissions in heavy industry
At the ongoing UN COP26 Climate Change Conference in Glasgow, Sweden held a high-level meeting in the global Leadership Group for Industry Transition (LeadIT). Sweden and India jointly launched LeadIT in 2019 to push for climate transition in heavy industry. Group members at the meeting agreed to focus on implementation of national roadmaps and strategies for the industrial sector's transition to zero emissions.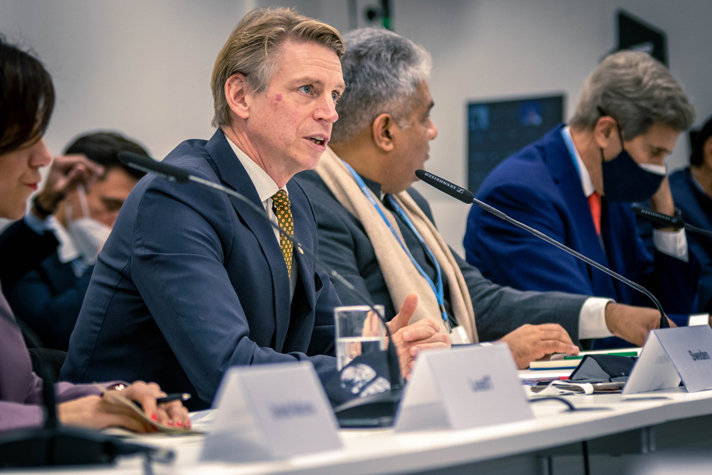 Both ministers and business leaders took part in the meeting. In addition to the implementation of national roadmaps and strategies, the participants agreed to carry out initiatives to strengthen the industrial sector's innovative capacity and technological development. They also agreed on policy measures and funding solutions to promote the industrial sector's green transition, reduce emissions and create new jobs. The most important conclusion was that major emissions reductions must be achieved in the coming decade.
- If the industrial sector makes the transition, we can drastically reduce climate emissions. This requires constructive collaboration between politics and industry, and that we jointly drive the efforts to make the transition. Sweden is currently experiencing a wave of green industrial investments. By showing how the transition provides new jobs and development, we encourage more countries to follow suit, says Minister for Environment and Climate Per Bolund.
LeadIT's commitments will also be followed up during the UN conference Stockholm+50, which Sweden will host next June.
LeadIT was launched by the governments of Sweden and India at the UN Climate Action Summit in New York in 2019. The group consists of 35 countries and businesses from all continents working together to promote the climate transition in heavy industry with the aim of achieving net-zero emissions by 2050. The countries in LeadIT account for one third of the global economy. Global initiatives such as LeadIT exemplify how Sweden's industry transition efforts can also spread around the rest of the world.