This content was published in the period between 3 October 2014 and 20 January 2019
Ministers on this page who have left the Government
Between 3 October 2014 and 10 September 2019 she was Minister for Foreign Affairs.
Ministers on this page who have left the Government
Between 3 October 2014 and 10 September 2019 she was Minister for Foreign Affairs.
Opening Statement by Foreign Minister Margot Wallström: "Syrian Women Peacebuilders"
Side event in the UN on Syrian Women Peacebuilders, 23 October 2015.
Check upon delivery.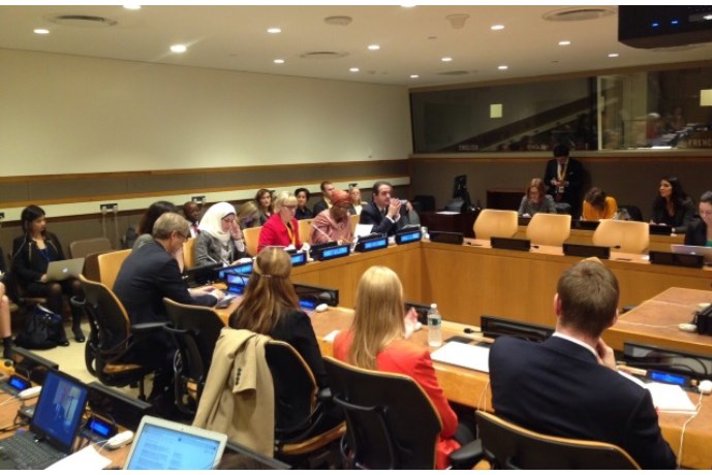 Ladies and gentlemen,
It is a great pleasure to be here this morning with Kvinna till Kvinna, our strategic partners and so many friends – Ms. Zainab Bangura, SRSG on Sexual Violence in Conflict, and Mr. Yannick Glemarec, Deputy Executive Director of UN Women. I also wish to extend a warm welcome to Ms. Rabheb Alwany from the Badael Research Institute. And I am pleased that we will also hear from Special Envoy Mr. Staffan de Mistura, whom I know – in his challenging task that we fully support – is a key advocate for the inclusion of Syrian women in the political process.
We are here today to learn from the experiences of the brave and dedicated women from Syria who amid violence and terror – and despite the risk to their own and their families' lives – continue the struggle for peace and security. This is a fight that does not involve weapons or brute force – but dialogue and conflict resolution. Your bravery and commitment deserve our full support.
The escalation of the violence in Syria in recent weeks is deeply concerning. The crucial efforts towards a political solution are more important than ever. The present situation calls for complete, genuine and concrete support to the Special Envoy Staffan de Mistura and his efforts. The fact that the international community, including the Security Council, has failed to stop this blood-bath for four harrowing years is simply disgraceful. None of the Security Council's resolutions on Syria have been implemented.
The humanitarian crisis in Syria is the world's largest in modern time. Parallel to intensifying our efforts in support of a political solution Sweden shoulders its responsibility in three ways. Firstly, Sweden is now receiving 3,000 refugees from Syria every week, amounting to 100,000 since the outbreak of the conflict. After Germany we have received the most Syrian refugees in Europe, although I know it pales compared to the neighbouring countries Turkey, Jordan and Lebanon. Secondly, Sweden has so far contributed more than 213 million US dollars in humanitarian assistance to alleviate the Syria crisis. Thirdly, in addition to our humanitarian assistance, Sweden will allocate another 220 million dollars over the coming five years through a new Syria Crisis Strategy. The Syria crisis is unprecedented in recent times so our support needs to be unprecedented.
Ladies and gentlemen,
When I was appointed Minister for Foreign Affairs of Sweden a year ago, I was asked about my priorities, and my answer was clear: we will pursue a feminist foreign policy. This means that we aim to strengthen the human rights of women, improve women's access to resources and increase women's representation – in times of war, and in times of peace. It also means that we will apply a gender perspective in our political analyses and include and listen to the voices of both women and men. This event today is a good example of what a feminist foreign policy means in practice. It means combining our political and diplomatic work with development cooperation, and providing space for and giving a voice to women peacebuilders.
I welcome the unique report that is being launched today. It reveals how active Syrian women are in efforts to de-escalate violence and promote initiatives for peace, in a very dangerous environment where the personal risks are extreme. I applaud your work and look forward to hearing about opportunities for the growing women's movement for peace.
Ladies and gentlemen,
Let me take this opportunity to highlight three areas that Sweden prioritises in our work for women, peace and security in Syria.
Firstly, indisputable evidence, as highlighted by the recently launched Global Study, has shown that women's participation leads to more sustainable peace. Women's organisations and women leaders have knowledge, experience and expertise that must be brought to the table. We simply cannot afford to ignore this in Syria. In the search of the political solution that Syria so desperately needs, political participation for all must be secured: both women and men must feel that they have a stake in their future. The importance of adequate representation of women in the political process is key and we are in close dialogue with the Special Envoy in this regard.
Local peacebuilding efforts carried out by women – often with great impact but little visibility – must be supported. The work of Kvinna till Kvinna in Syria, which Sweden supports, is crucial in building networks of agents at the grassroots level to drive change bottom-up. Sweden has worked with female peacebuilders, women's networks, women human rights defenders and lawyers and activists in Syria during the last three years, in strong partnership with Kvinna till Kvinna. The report launched here today is one example of our support.
Secondly, conflict-related sexual and gender-based violence is a core security challenge that must be firmly addressed. Throughout the conflict in Syria, women and girls have been targeted on the basis of their gender. Sexual violence is systematic and widespread amongst many warring parties, and used as a tactic of terror by ISIL. Women and girls from Syria are sold as commodities among extremist groups and are repeatedly exposed to horrendous acts. According to the UN Independent Commission of Inquiry, Assad regime forces have arrested female lawyers, journalists and peace activists. Women have suffered rape and other forms of sexual violence by regime personnel in detention facilities. It is time to speak up louder against these horrendous crimes, to support the victims, prevent stigmatisation and make sure that perpetrators are brought to justice. Sweden fully supports SRSG Zainab Bangura in her tireless efforts to address the issue of sexual violence in armed conflict and look forward to taking part of the details in her seven point plan.
Promoting women's participation in prevention, mitigation and peacebuilding efforts is imperative and key to countering radicalisation and terrorism. Empowering women and girls is an essential part of building peaceful communities that are less susceptible to the threat of radicalisation. Yet women's potential as peacebuilders to challenge extremist narratives, promote social cohesion and prevent radicalisation remains an untapped resource, in Syria and elsewhere. This needs to change.
Thirdly, I would like to draw attention to the plight of women human rights defenders. We know that fighting for peace and women's rights often comes at a high price. Women human rights defenders that Sweden has consulted have all spoken at length about the threats and risks they face. One of these women had a fresh bruise on her face – from an assault by unidentified men who wanted to frighten her into silence. Such acts are all too common. Women human rights defenders across the globe face threats, stigmatisation, harassment and violence. They are being persecuted, beaten and sometimes even raped or killed. This is unacceptable. We need to step up efforts to prevent these acts and protect those who struggle for peace and gender equality.
Sustainable solutions and measures to address root causes of violence are necessary. Sweden vows to continue promoting women's social, political and economic empowerment and to counter narratives that reinforce negative gender roles. We believe that it is crucial to engage men and boys in this work – to change behaviour and attitudes. We will also highlight the importance of supporting and finding better methods to protect women human rights defenders in our revised National Action Plan for the implementation of UN Security Council Resolution 1325 on women, peace and security, which will be adopted next year.
Ladies and gentlemen,
Finally, I wish to mention that the new strategy for the Syria crisis that I mentioned will include efforts to strengthen the capacity of Syrian civil society and women's networks to contribute to peacebuilding. Gender equality, human rights, and prevention and rehabilitation of sexual violence will be top priorities in this strategy.
Last week, the Security Council adopted a new Women, Peace and Security resolution (2242). Let us use this resolution as an opportunity for all of us to do better and step up efforts to advance women's contribution to lasting peace and security. As a representative of a feminist government I can assure you that we are fully committed to do just that – do better – in our work to enhance gender equality and promote women as actors for peace.
Thank you.