Statement
Prime Minister Stefan Löfven in Gullranda on security in the Baltic region
Speech, 19 June 2016.

Check against delivery.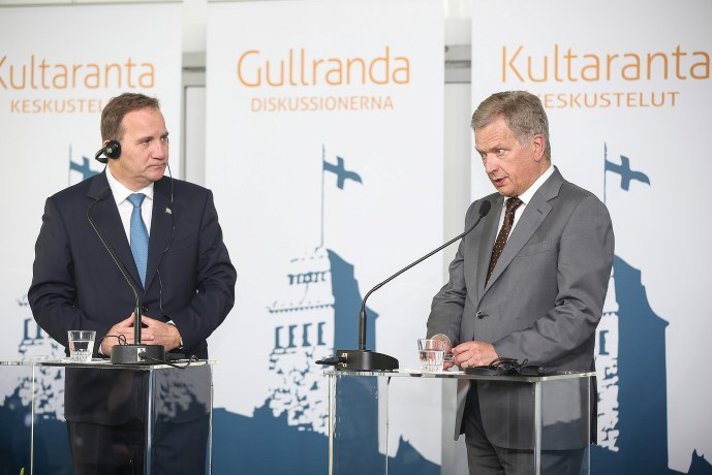 I would like to thank our hosts for inviting me here to Gullranda, and for giving me the opportunity to give my views on security in the Baltic region and northern Europe.
Speaking about security policy in Finland has become more or less a tradition for Swedish Social Democratic prime ministers.
In June 1983, Olof Palme addressed the Paasikivi Society in Helsinki. This was in the middle of the Cold War, and the nuclear threat was at the heart of the security policy debate. In our part of the world, it was largely a matter of the possibility of creating a nuclear-weapon-free zone in the Nordic region.
Eleven years later, in 1994, Ingvar Carlsson was Prime Minister of Sweden. After the fall of the Berlin Wall, the climate of cooperation in Europe and around the world was completely different. Finland and Sweden were both on their way to full membership of the EU. Carlsson's speech exuded optimism and enthusiasm.
Now we are in 2016, and the global situation is once again very troubled.
War and conflict rage in the Middle East. The fighting in Syria has been ongoing for longer than the entire Second World War, and the end is not yet in sight. Terrorism has hit hard, both there and here in Europe. Modern violent extremism is global in its reach, but recruitment is often local. It is fuelled by polarisation, social divides and segregation. In Sweden, at least 300 of our own population have travelled to Syria and Iraq to take part in outpourings of violence led by Daesh.
In central Africa, one of the world's largest conflicts is ongoing in the Great Lakes region and several countries are plagued by violence. Meanwhile, here in Europe, we see challenges to values and international law.
For many years there were fewer and fewer conflicts in the world – but now there are more and more.
Nuclear weapons still exist and are still being developed. They do not make the world safer.
All of this may fill us with pessimism – but it should also fill us with determination and willingness to act.
More than ever, we need deep commitment to peace and reconciliation, to democracy and human rights, to disarmament, solidarity and humanity. Sweden must be a strong voice in the world.
In Sweden, we stand up for freedom, security and safety. Our independence rests on two pillars: military non-alignment and a policy of cooperation. Foreign policy is our first line of defence; we build security together with others, both countries and organisations.
And our capacity to act begins in our neighbourhood.
Here in Finland, at the Helsinki Conference in 1975, the foundations were laid for a European security order. This is now being fundamentally challenged by Russia's illegal annexation of Crimea and its aggression in eastern Ukraine. That is serious. Using military force to change national borders contravenes international law and can never be accepted.
Every country is entitled to respect for its sovereignty and its territorial integrity. The same goes for the right of every state to independently make its own security policy choices. Large, militarily strong nations take their own rights in this respect for granted. But they have no right to influence other states, to restrict their sovereignty to make their own decisions on the security policy line they choose to pursue.
The fighting continues in Ukraine, more than two years after Russia's aggression began. There is no sign that Russia intends to leave Donbass.
The Minsk Agreements are far from being implemented. EU's sanctions against Russia must be maintained until the established requirements are met. At the same time, the support for Ukraine's domestic reform must be sustained. It is strategically important – for Ukraine, for the entire region, and also for the EU – that the reform process there succeeds. Measures to combat corruption in the country are being pursued with greater vigour and determination.
Ukraine must be free, both of the annexation – and of corruption.
The worsened security situation in Europe is also obvious in our more immediate neighbourhood. Exercises and intelligence activities in the Baltic region have increased.
We have seen conduct by Russian military aircraft that is both unprofessional and provocative, increasing the risk of incidents. Influence operations, cyber operations and disinformation are on the rise, and Sweden is among the targets.
The Baltic region should be characterised by eased tensions and solidarity, by contacts between countries and peoples, by respect and confidence and trust.
But unfortunately, developments in recent years have increased tensions. We must turn this trend around. The idea of the Baltic as a sea of peace must be resurrected.
Our relations with Russia are of paramount importance. But the conditions for cooperation will be impacted negatively as long as Russia pursues its current policy, as demonstrated in Crimea, in Ukraine and around the Baltic.
It is therefore important to stick clearly to our principles and our democratic values in every contact with Russian representatives.
The Organisation for Security and Cooperation in Europe (OSCE) has an important role to play here. It is also in our interest to develop cooperation with Russia via mutual and respectful dialogue, as well as through cooperation in regional contexts such as the Arctic Council, the Barents Euro-Arctic Council and the Council of the Baltic Sea States.
We must use every forum we have to pursue a continued dialogue on the norms and principles that will create confidence, stability and security in Europe in the long term.
The security policy terrain has become harder to navigate. Greater caution and responsibility for peace and security are thus required.
Although the situation in the Baltic region has deteriorated, Sweden does not perceive any direct military threat to our country. We consider it unlikely that any individual military armed attack will be directed at Sweden in the near future. But crises and incidents can occur, and threats of military attack can never be ruled out.
True security is much more than just the absence of war.
Pandemics, technological advances that fall into the wrong hands, climate and natural disasters, terrorism, threats to our open society, to freedom of expression and to internet freedom, cross-border crime and financial flows can all threaten our security.
In light of this, the Swedish Government is currently working on a national security strategy that responds to the present and future broad concept of security.
The Swedish Government remains committed to Sweden's security policy line. It is clear, well-known and respected. Our military non-alignment serves us well, and it contributes to stability and security in northern Europe.
It requires a broad and responsible foreign and security policy combined with deepened defence and security policy cooperation and credible national defence capabilities.
This time last year, the Swedish Parliament, the Riksdag, adopted a decision on the direction of Sweden's defence for the next five years by a large majority. Following a long period of reduced resources, 17 billion Swedish crowns will now be invested in improved military capabilities up to 2020.
This will strengthen Sweden's capability to defend itself against an armed attack. This sends an important signal to the rest of the world of our determination to safeguard our sovereignty and territorial integrity in all situations.
For us, remaining committed to our military non-alignment is essentially a defensive military policy approach. The aim is to reduce tensions in our neighbourhood. We will not make any abrupt shifts in foreign, defence or security policy. We do not want to aggravate the military strategic situation or create motives for others to act unpredictably or hastily. We do not want to have to take part in military operations decided on by anyone other than ourselves. And we disapprove of nuclear weapons as part of a defence capability.
Our military non-alignment means that we are strong advocates of common security. Security is built in cooperation with others, not in confrontation. Sweden is therefore deepening its bilateral and multilateral relations with countries and organisations in our neighbourhood.
Sweden will not remain passive if another EU Member State or Nordic country suffers a disaster or an attack. We expect these countries to act in the same way if Sweden is affected. Our country must therefore be in a position to both give and receive support, civilian as well as military.
We will not join alliances – but we will always be ready to take responsibility for our common security.
We believe in cooperation on a broad front. Contacts with Finland have a special role in this policy of cooperation.
With the worsened security policy situation in our neighbourhood, strategic foreign and security policy cooperation between Sweden and Finland has become particularly significant. We both have a long tradition of military non-alignment and similar views on international security. This creates good conditions for even closer cooperation.
We have also begun operational planning for situations outside of peacetime conditions. This is an important addition to the individual national planning of both our countries. If our countries are to act together, political decisions will, of course, still have to be taken at national level, and deepened cooperation does not imply a Swedish-Finnish defence alliance.
Just over a month ago, President Niinistö and I were invited to the White House in Washington, along with the prime ministers of the other Nordic countries. President Obama received us with a powerful description of the Nordic countries' potential for global influence. As he put it: "You are punching well above your weight".
There is strong international interest in our Nordic values and our social model. The summit also sent a signal that Europe – not least northern Europe – plays an important role in a changed security policy landscape. From a Swedish perspective, we welcome continued development of the Nordic foreign, security and defence policy cooperation (including NORDEFCO), as emphasised by the US.
We will continue to punch above our weight.
Our bilateral cooperation with the United States is very important. The Americans still play an important role in security in Europe, with their military capabilities and technical know-how, and the leading role they play in various international operations.
The transatlantic link is fundamental to European security. Sweden and the US recently signed a letter of intent on the framework for our defence policy cooperation in several key areas.
In relation to NATO, Sweden, like Finland, has chosen an approach of cooperation rather than membership. We were very interested to read the report of the Finnish expert inquiry on the various consequences of NATO membership that was presented at the end of April. Without wishing to appraise the various arguments in the study, I would nonetheless like to say that we see it as an important signal on the importance of continued close Swedish-Finnish cooperation and of consensus in the security policy area.
Cooperation with NATO has developed in recent times – just a few months ago, the Riksdag adopted a host nation agreement with NATO that will make joint exercises a possibility.
It is important for Sweden to be able to conduct a broad political dialogue with different security policy actors, particularly concerning developments in our neighbourhood. NATO cooperation also gives us opportunities to develop the Swedish Armed Forces for both our national defence and for Sweden's capability to take part in international crisis management operations.
One important part of Sweden's and Finland's partnership with NATO is the dialogue that both of our countries conduct with NATO about security in the Baltic region. The aim of this dialogue is to increase understanding of developments in our neighbourhood, and thus to contribute to predictability and stability. President Niinistö and I will continue this dialogue in special discussions in the margins of the NATO summit in Warsaw in a few weeks' time.
We will continue to create security together.
Friends,
It has now also been more than two decades since Sweden and Finland joined the European Union. The EU is our most important foreign policy platform. Effective cooperation in the EU is also a prerequisite for peace. In the midst of all of the crises that European cooperation is currently enduring, we must not forget its historical significance in preventing conflicts between European nations.
We are strongest when we stand together.
The EU's Eastern Partnership is an example of how a sturdy neighbourhood policy promotes peace and prosperity. The EU stands united in favour of a two-state solution in the Middle East and is united in the efforts to see the resumption of peace talks. Our joint actions with respect to Russia and in Ukraine are further examples of the EU as a political force. The EU will soon also adopt a global security strategy. This is a welcome step.
The countries of Europe must take greater joint responsibility for European security. Sweden would like to see a stronger common foreign and security policy in the EU. This would mean we could do more to prevent and manage conflicts in Eastern Europe, in the Middle East and in Africa that also affect us. We also want to strengthen the EU's capability to support and reinforce Member States' resilience to hybrid threats. To enable it to act as effectively as possible in various crisis management operations, the EU could also develop its own partnerships with the UN and NATO.
But faith in the European project is weakened at the moment.
Over the last year, the EU has struggled to implement the decisions we have taken on a more equitable distribution of refugees, and last summer there were grave concerns as to whether it would be possible for Greece to remain in the euro area.
In just a few days, the UK will hold its referendum on whether to remain in the EU, the outcome of which seems genuinely uncertain.
There is a risk that Brexit would put wind in the sails of those in our Member States who would choose isolationism rather than cooperation. Regardless of the result in the UK, we need to try harder to ensure that the EU fulfils citizens' desire for decent working conditions, wages and social conditions. This is the only way for us to strengthen faith in the European Union, and it is for this reason that I have convened a special EU social summit in Sweden next year to move these issues forward.
Friends,
"Sweden has lived and breathed the UN for almost 70 years."
These were the words of Ban Ki-moon when he visited Stockholm a while ago.
This is true. Our support is strong. The United Nations is the only truly global organisation that exists to sustain international peace and security. For a government that stands for solidarity, global engagement and international accountability for peace, it is a matter of course to push for strong and deepened UN policy.
Quite simply, it is in Sweden's interests. Regardless what challenges the world encounters – be it a more brittle European security order, a Middle East characterised by appalling acts of violence and palpable instability, or a refugee crisis the like of which has not been seen since the Second World War – we must bolster ourselves in international law, multilateral cooperation and the United Nations.
And last year saw several breakthroughs for global cooperation. In all of this darkness, there are glimmers of light.Extreme poverty has been more than halved. Today, nine out of ten girls and boys around the world go to school. Maternal mortality has fallen. Child mortality has fallen. Billions of people have gained access to clean water. A global middle class is emerging in which every second person has access to a mobile phone.
Several important successes were seen in global intergovernmental efforts last year. Financing for development, the new global goals for sustainable development in the 2030 Agenda, and a new climate agreement in Paris. These are fruits of UN cooperation that works.
But the UN can and should do more, not least to prevent the threats and risks now seen in the world in terms of war, terrorism and the climate. Peace is not only built by bringing an end to war and conflicts. It is even more important to ensure that they never break out in the first place.
That requires more easing of tensions, more cooperation for global development, more prevention. The United Nations must retain and develop its unique role in this respect. It is to strengthen this work that Sweden wants to take a seat on the UN Security Council and is standing in the election in New York just over a week from now.
An increasingly globalised world requires stronger global cooperation. This should be led by the UN.
Allow me to finish where I began. When Sweden and Finland cooperate, we do so not only as neighbours. We have a common history and we have a common set of values, with broad popular and political support. We have a common history – and we also have a common future, in which I know that together we will continue to ease tensions and create security in the Baltic region and northern Europe.