This content was published in the period between 3 October 2014 and 20 January 2019
Ministers on this page who have left the Government
Between 3 October 2014 and 30 November 2021 he was Prime Minister.
Ministers on this page who have left the Government
Between 3 October 2014 and 30 November 2021 he was Prime Minister.
Speech by Prime Minister Stefan Löfven at the University of Warsaw, 19 June 2017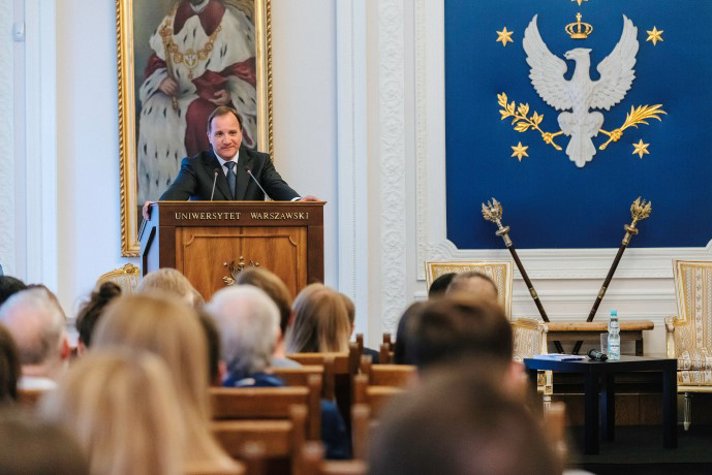 Chancellor, students, ladies and gentlemen,
Dzien dobry!
I am pleased to be in Warsaw again. This is my third visit to this wonderful city as Prime Minister. The ties between our countries and societies are strong and manifold, and we cooperate closely not least as members of the European Union. Today, I would like to share some thoughts on our common Europe.
***
"When you come out of the storm, you won't be the same person who walked in. That's what this storm's all about."
This is a quote by Japanese author Haruki Murakami. It tells us that turbulence brings change, but also that we should not be afraid. The secret of change is to focus our energy not on fighting the old, but on building the new.
We have some stormy times behind us. For the last few years, the European Council has been in almost constant crisis mode. From terrorist attempts to attack the foundations of our democracies – in Brussels, Paris, Copenhagen, Berlin, London, Nice, Munich, Stockholm and many more places; from the onslaught of the financial crisis and the EU's inability to tackle youth unemployment, social despair and the global refugee crisis, and from Russia's illegal annexation of Crimea and its continued aggression in Ukraine to Brexit and the long, hard negotiations that lie ahead of us.
But in recent years, we have also seen the results of strong political leadership and countries coming together to tackle the challenges we face. These results include the global climate agreement, which today demands even stronger European leadership, new sustainable development goals, and large parts of the African countries rising from poverty – faster than ever before. These advances show us that global cooperation makes a real difference. And that the EU is able to come out of these storms stronger. Standing united against external threats. Tackling common challenges with the collective strength required to resolve them. Clearing away the last ruins of the financial crisis and building strong societies again.
This is a defining moment in Europe's history. If we manage it well – if we focus on building the new – we will become stronger.
***
Today I would like to focus on three central values of our European Union. The first concerns added value for our citizens. We need to stop blaming Brussels and be better at delivering results that are visible in people's lives. The second concerns defending democracy, against terrorism but also about being true to our Union's most fundamental principles and the third concerns the true spirit of cooperation.
I believe that the future of the European Union must deliver on a much stronger promise to our citizens. If EU cooperation is to gain the broad popular support needed to stand strong in the 21st century, we must have a Union that works harder for the wellbeing of its people.
We need good conditions to create economic growth and more jobs in a world of increasing competition. It is clear that Asia, and in particular China, is gaining in importance, while the West's relative weight is diminishing. Europe will remain one of the most prosperous parts of the world – but only if we stick together.
Together, we represent half a billion of the world's population, and we are the main trading partner of both the United States and China. But individually, each one of our countries would have very little opportunity to influence the changing world order. No single European economy will be among the eight largest in 2050. But the EU will still carry weight as the representative of us all. Simply put – we are stronger together.
Economic growth should never come at the expense of ordinary people. This is a lesson for all of us. Globalisation is good, but it is certainly better for some. In a world where nine of the world's wealthiest people own as much as 3.5 billion people together, we need a European Union that strives for equality and supports people's aspirations for a good life.
The Single Market and its freedoms are key to achieving this. In no other part of the world can people, goods and services move so freely between states. When travelling across Europe, to study or take a job, we should be able to do so freely. This is a cornerstone of European cooperation – and perhaps the most visible freedom for us as European citizens.
But when crossing the border to take that job, we should be able to do so without being paid less than our fellow workers in our host country. Nationality should never determine pay levels or working conditions. They should be the same for all.
Working for a Europe where all citizens benefit from growth and globalisation should be a priority. This is the background to the Social Summit for Fair Jobs and Growth in Gothenburg in November. I am very pleased that your Prime Minister has indicated that she will join us. It will be a key moment to discuss how our societies can improve and prepare to meet the challenges and opportunities of today and tomorrow.
For me it is crystal clear. I want the EU to work hard for the size of the market, but even harder for the wellbeing of its people.
***
Friends, the European Union is a family of nations, united by a common vision of peace, democracy, human rights and the rule of law. Being part of our community is a choice made by each Member State in the belief that we can achieve more together. It is a commitment to the shared values enshrined in the EU Treaty.
We are currently strengthening our joint actions against terrorism in the wake of a number of brutal attacks against our societies, against our peoples. Many of these joint actions are tough, but they are necessary.
However, the work to defend democracy is a much greater task. Poland knows this better than most. You have a proud history of struggling for freedom.
Defending democracy means ensuring the safety and security of everyone. It means standing up for our Jewish citizens, at a time when anti-Semitic threats, violence and the manifestations of hatred are once again reverberating throughout Europe. It means never accepting the demonisation of Muslims or other groups by populists and extremists. It also means working for the right of women to live free, earn a fair and equal wage and control their own bodies, and promoting the rights of minorities held back by prejudice and poverty. It is the obligation of all leaders in all countries to speak out forcefully against all forms of violence, oppression and extremism.
Defending democracy also means defending free and independent media, freedom of reporting and freedom of the press, because we know that politics always benefits from hard scrutiny.
Defending democracy means respecting every person's right to assemble freely, to be tried in free and fair trials, to move freely in society and to love whomever they want. Respect for the rule of law and due process that guarantee the rights of all people is fundamental to our cooperation. There is no room for trade-offs here.
If we do not defend our democratic values, we will lose our Europe as we know it.
***
My last point concerns cooperation itself.
In his book Markings, former Swedish UN Secretary-General Dag Hammarskjöld wrote:
"Never look down to test the ground before taking your next step; only he who keeps his eye fixed on the far horizon will find the right road."
Cooperation involves give and take. Believe me; I know this from long, hard negotiations as a trade union leader. Cooperation involves making deals and compromising, giving up some of our own standpoints, listening to others and, in the end, doing what is best for everyone. It involves doing the right thing and almost always having our eyes on the horizon and not on our own shoes.
Cooperation involves standing up for common decisions, not just those that suit us or our electorate the best. The EU cannot be reduced to some sort of cash machine from which to withdraw money when needed. The EU is a joint project that comes with many advantages, but also obligations. It is built on trust.
This trust has declined in recent years. Throughout the global refugee crisis, we have witnessed not only an inability, but an unwillingness, to share responsibility.
Many words have been said and decisions have been made, but far too little action has been taken.
It's time to ensure control of our external borders, implement the redistribution of refugees within the EU, combat human smuggling and strengthen our common foreign policy to put a stop to the root causes of the refugee crisis.
We must move from chaos to control. We must share responsibility, or we jeapordise the future of our European cooperation as we know it.
If we do not establish a new, common and sustainable asylum system, more countries will be forced to act unilaterally, which will hurt mobility and trade.
For me, this is about honesty – towards my colleagues in the European Union and my own people in Sweden. No one gains from weak European cooperation. But it is also about solidarity with, and justice for, the people fleeing for their lives.
***
Next month I will turn 60. I was born in 1957, the year the Treaty of Rome was signed. My generation was given vast opportunities and had great hopes and dreams for the future. I want you to have the same.
We face huge challenges today. We did in the 1960s as well. But enormous opportunities lie in front of us. I never cease to be amazed at the progress we make together: how we find new, smart solutions to climate change or injustice in the world, how the young generation explore and renew the way we think, leading to innovation beyond our imagination.
For me, there is no greater duty than to pave the way for the young generation of today. And I know that the European Union can be a driving force for this – if we stand up for our core values: democracy, cooperation, and always serving our citizens.
Thank you.
Contact
Dan Lundqvist Dahlin
Press Secretary, Prime Minister's Office
Phone (switchboard)
+46 8 405 10 00