This content was published in the period between 21 January 2019 and 8 July 2021
Ministers on this page who have left the Government
Between 3 October 2014 and 30 November 2021 he was Prime Minister.
Ministers on this page who have left the Government
Between 3 October 2014 and 30 November 2021 he was Prime Minister.
Prime Minister Stefan Löfven's speech on International Holocaust Remembrance Day 2019
Stockholm, 27 January 2019.

Check against delivery.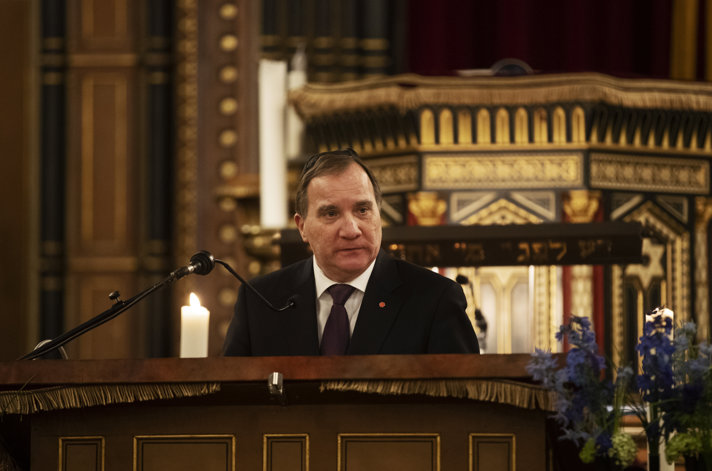 Survivors,
Your Royal Highness,
Excellencies,
Friends.
I would like to say a few words about emptiness.
A few years ago, the play Our Class was staged here in Stockholm.
It deals with the annihilation of the Jewish population of the Polish village of Jedwabne in 1941.
There is an extremely painful moment in the story, where the young man Abram, who has emigrated to United States, reads a letter in which he asks about his mother and father.
His sisters and brothers.
His grandmothers and grandfathers.
His cousins, his aunts and uncles.
He asks, "Who has killed my entire family, taken our home, our belongings, everything, and now lives in our house?"
He tries to scream out his fury and despair.
That awful emptiness.
* * *
Today, a battle is being fought over values, a battle that has not been won yet, and which may never be won for good.
Threats and hatred towards Jews remain horribly widespread in Sweden.
Anti-Semitism can be found in far-right and far-left groups, in conspiracy theories on the internet, in fundamentalist Islamic environments, but also among adults and children who have fled to Sweden, who have been exposed to anti-Semitic propaganda, often orchestrated or incited by the very same regimes that they have fled from.
Here, no emptiness, no moral vacuum, can be allowed to exist.
Here, we must step in and, with unhesitating clarity, expose, confront and combat anti-Semitism, wherever it may appear and no matter who expresses it.
We have started the work of strengthening the law forbidding racist symbols, we have secured funding to enable more young people to travel to Holocaust memorials in Europe and we have made sure to increase resources to Jewish communities and other organisations needing support for their safety.
But if new education programmes are needed, we will create them.
If new safety measures are needed, we will take them.
If tougher police efforts are needed, we will implement them.
Jewish life is an incontrovertible part of Sweden and, wherever it is threatened or challenged, it will be defended. Let there be no doubt about this.
* * *
Another part of this defence is the preservation of memories.
Many of us have been moved by Jacob Mühlrad's work on portraying his grandfather's memories of Auschwitz and Bergen-Belsen, which now live on and have been spread across the world in the composition Kaddish.
Achievements like this make Sweden proud.
But the task of keeping memories alive cannot just be shouldered by survivors and their descendants.
It must be borne by a whole society.
Last summer, Max Safir contacted me.
Since his liberation from the Ebensee concentration camp, he had kept his memories alive.
He had worked, formed a family – and, at the same time, toiled and travelled to show new generations the tattoos on his skin and to tell the tale he carried inside him.
Now his strength is starting to fail, and he told me he thought that Sweden should found a museum to preserve his memories, and those of other survivors, for coming generations.
We are now establishing a museum for Holocaust survivors in Sweden. I mentioned this in my Statement of Government Policy in the Riksdag after I was elected Prime Minister.
Together with the international conference that we are arranging next year, this museum will lay the foundation for deepening and strengthening the work of remembrance in Sweden and across the world.
I want Max Safir, Hédi Fried, Livia Fränkel, Emerich Roth, and all of you who have devoted your lives to telling of the crimes committed against you and your loved ones to know this:
Your memories will not vanish into emptiness.
They will live on.
* * *
Finally, I would like to say this: Today, we have gathered to grieve, and to support all of you who still live with the emptiness left behind by your parents, family members, friends and loved ones.
But we are also doing it to honour and celebrate that which has lived on.
Jewish life and the fantastic Jewish culture, which has survived millennia of persecution and oppression.
At the end of the play Our Class, an older Abram appears again.
He grieves for the death of his wife, but, as he tells of those who attended her funeral in the United States, something else emerges.
As he lists his children and their partners, in his pride over his grandchildren and great-grandchildren, Abram describes the life, the love, the joy that is the opposite of emptiness.
So many of you live, even today, with sorrow and pain.
But so many also live in love, in community, in freedom.
And I promise you, as Prime Minister and fellow human, I will do everything in my power to ensure this freedom is defended.
Thank you.