Ministry of the Environment and Energy
The Ministry of the Environment and Energy is responsible for the Government's environmental, energy and climate policy. The Ministry works on issues concerning the climate, energy, biological diversity, chemicals, ecocycles, nature and forest conservation, marine and water environments, radiation safety and international environmental cooperation.
Responsible ministers
Isabella Lövin
Minister for International Development Cooperation and Climate, and Deputy Prime Minister
News from Ministry of the Environment and Energy
Riksdag passes historic climate policy framework

The Riksdag has passed a climate policy framework for Sweden. The Climate Act and new climate goals will give Sweden an ambitious, long-term and stable climate policy. The Climate Act will enter into force on 1 January 2018.
Agreement on Swedish energy policy
The Government, the Moderate Party, the Centre Party and the Christian Democrats have concluded an agreement on Sweden's long-term energy policy. The agreement consists of a common road map for a controlled transition to an entirely renewable electricity system, with a target of 100 per cent renewable electricity production by 2040.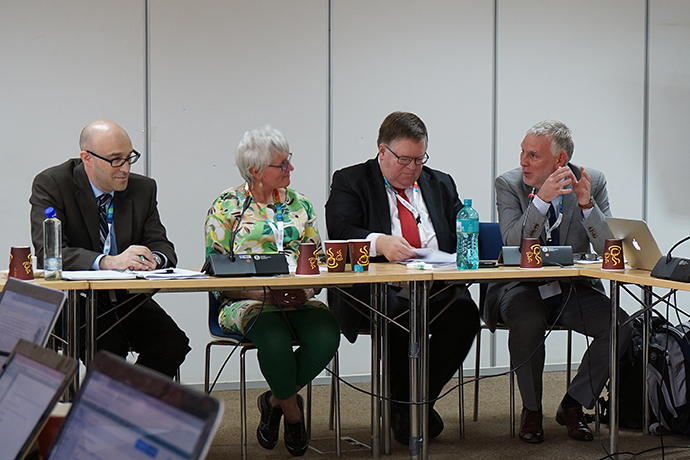 How the world can achieve both fossil-free societies and a non-toxic environment
The world is facing major challenges in the area of climate and the environment. The Paris climate agreement is aimed at keeping the rise in global temperature below 1.5 degrees Celsius, and the countries of the world have also agreed on 17 global goals for sustainable development, to be achieved by 2030. How do we ensure that the measures we take to achieve one goal do not make it more difficult to achieve one of the other goals? This was at the core of the discussions during the seminar Sweden arranged in cooperation with the United States at the UN Environment Assembly, UNEA2, in Nairobi.
Fossil Free Sweden
Sweden will be one of the world's first fossil-free welfare countries. To this end, the Government has launched the Fossil Free Sweden initiative, where Swedish actors are given the opportunity to call attention to how they are contributing to climate change work. The initiative brings together actors from the business sector, municipalities, regions and organisations from across the country.
Investments in climate change adaptation and energy
The Government wants to take a climate leap that accelerates the transition to a more sustainable society. By taking responsibility for our climate impact in Sweden, we will show the countries of the world the way forward. Sweden must take the lead and become one of the world's first fossil-free welfare countries.
Keyboard navigation in the search filter is done by using a combination of the TAB, ENTER, and ARROW keys. Start by pressing the TAB key to enter the filter module. Use the arrow keys to move between tabs. To select a desired tab, use the TAB key.
Help: get help with the filter