Strategy for Sweden's global development cooperation in sustainable social development 2018–2022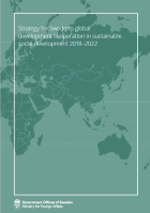 The objective of Sweden's international development cooperation is to create opportunities for people who live in poverty and oppression to improve
their living conditions.
Download:
Within the framework of this strategy, Swedish development cooperation will contribute to sustainable social development through improved, equitable and
gender-equal health, quality lifelong education, sexual and reproductive health and rights, and access to clean water, sanitation and hygiene (WASH). The strategy will apply during the period 2018–2022 and encompasses a total of SEK 7 100 million.