Ministry for Foreign Affairs
The Ministry for Foreign Affairs and Sweden's missions abroad are responsible for Sweden's foreign, development cooperation and trade policy.
Responsible ministers
Isabella Lövin
Minister for International Development Cooperation and Climate, and Deputy Prime Minister
News from Ministry for Foreign Affairs
Sweden during UN high-level week

The UN General Assembly high-level debate began on 25 September and runs until 1 October. The Swedish delegation was headed by Minister for Foreign Affairs Margot Wallström. Minister Wallström also took part in a number of events related to Sweden's membership of the UN Security Council.

Statement by Minister for Foreign Affairs Margot Wallström: Humanitarian disaster in Idlib must be avoided

The conflict in Syria is one of the greatest humanitarian catastrophes of our time. Hundreds of thousands of people have died, and more than half of the country's population has been forced to flee since the start of the conflict in 2011. Time and again, the Syrian regime has shown that it is prepared to go to any lengths to force the population into submission, without any respect for human life and suffering.
Sweden in the UN Security Council
Sweden is a non-permanent member of the UN Security Council in 2017–2018. As an open country that is dependent on the rest of the world, it is in Sweden's interests to contribute to and defend the international order, at the heart of which lie the United Nations and the Security Council.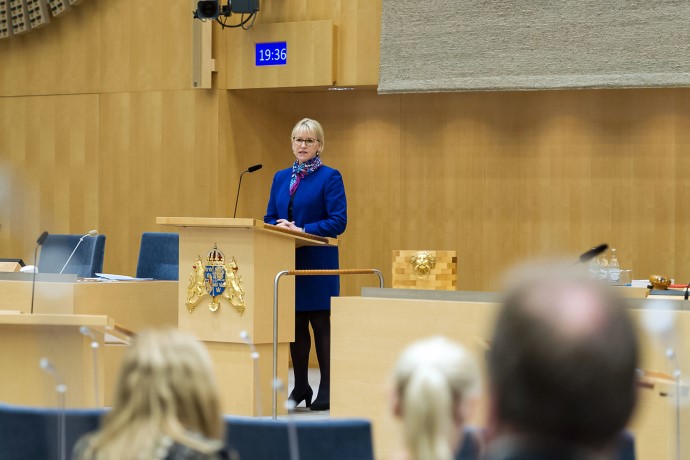 Statement of Foreign Policy 2018
On Wednesday 14 February 2018, Minister for Foreign Affairs Margot Wallström presented the Statement of Foreign Policy to the Riksdag.
Feminist foreign policy
Equality between women and men is a fundamental aim of Swedish foreign policy. Ensuring that women and girls can enjoy their fundamental human rights is both an obligation within the framework of our international commitments, and a prerequisite for reaching Sweden's broader foreign policy goals on peace, and security and sustainable development.
Keyboard navigation in the search filter is done by using a combination of the TAB, ENTER, and ARROW keys. Start by pressing the TAB key to enter the filter module. Use the arrow keys to move between tabs. To select a desired tab, use the TAB key.
Help: get help with the filter