Ministry for Foreign Affairs
The Ministry for Foreign Affairs and Sweden's missions abroad are responsible for Sweden's foreign, development cooperation and trade policy.
Responsible ministers
Ann Linde
Minister for Foreign Trade, with responsibility for Nordic affairs
News from Ministry for Foreign Affairs
New Government

Margot Wallström is Minister for Foreign Affairs, Ann Linde is Minister for Foreign Trade with responsibility for Nordic affairs and Peter Eriksson is Minister for International Development Cooperation in the new Swedish Government.

10 points on Sweden's membership of the UN Security Council 2017–2018

As a principled member of the United Nations Security Council 2017-2018, Sweden took its cue from the foundation stones of international law, human rights, gender equality and a humanitarian perspective. The Swedish working method was characterised by listening, creativity, active diplomacy and an ambition to achieve results. We are grateful for the good cooperation with partners during our tenure.
Sweden in the UN Security Council
Sweden is a non-permanent member of the UN Security Council in 2017–2018. As an open country that is dependent on the rest of the world, it is in Sweden's interests to contribute to and defend the international order, at the heart of which lie the United Nations and the Security Council.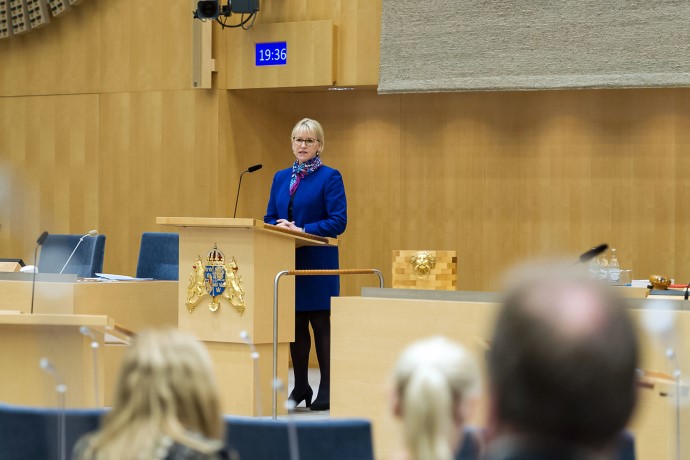 Statement of Foreign Policy 2018
On Wednesday 14 February 2018, Minister for Foreign Affairs Margot Wallström presented the Statement of Foreign Policy to the Riksdag.
Feminist foreign policy
Equality between women and men is a fundamental aim of Swedish foreign policy. Ensuring that women and girls can enjoy their fundamental human rights is both an obligation within the framework of our international commitments, and a prerequisite for reaching Sweden's broader foreign policy goals on peace, and security and sustainable development.
Keyboard navigation in the search filter is done by using a combination of the TAB, ENTER, and ARROW keys. Start by pressing the TAB key to enter the filter module. Use the arrow keys to move between tabs. To select a desired tab, use the TAB key.
Help: get help with the filter