The Swedish Press Act: 250 years of freedom of the press
The Swedish constitution is governed by four fundamental laws and one of those is: the Press Act of 1766. The constitution states that all citizens have the right to freely seek information, organize demonstrations, form political parties and practice their religion. Already in 1766, Sweden pioneered in making freedom of the press part of its constitution.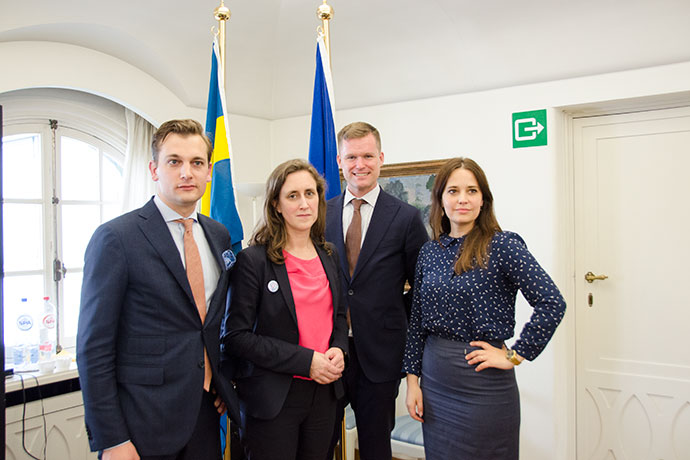 This vital part of Swedish democratic society was also something that Ambassador Anders Ahnlid and the Swedish Publishers' Association Utgivarna wanted to draw attention to. 31st of May Swedish Residence in Brussels was the site for a discussion on Freedom of expression and Freedom of the press.
Among the invited speakers was State Secretary Per Olsson Fridh, Swedish Ministry of Culture:
- Threats against the freedom of expression and artistic freedom are also threats against democracy. The right to freely express oneself, as well as the fundamental right to participation in cultural life, is a corner stone of a free society, the State Secretary said.
He and other speakers emphasized that the freedom of the press cannot be taken for granted and always needs to be safeguarded also in Sweden and the EU.
- Not long ago, many of us felt that freedom of expression and democratic values were being strengthened in many countries where this previously had been limited. The path towards more freedom appeared to be ensured. But over the last few years we have seen quite the opposite development in many part of the world. This is true even for Europe and its neighbouring countries, State Secretary Per Olsson Fridh, said.
Other speakers were Gustaf Lind, Swedish ambassador for Human Right, Cecilia Wikström, Member of the European Parliament, Hanna Stjärne CEO Swedish Television and Karin Olsson Culture Editor of Expressen (one of the major daily newspapers in Sweden).
Let us celebrate the 250th anniversary of the Swedish Press Act – a pillar of democracy and the first in the world of its kind.
A part of the EU4HumanRights initiative
#EU4HumanRights aims at raising awareness about human rights issues in the world and discussing human rights priorities in EU foreign policy. One of these priorities is Freedom of Opinion and Expression. That's also why this event is a part of this joint initiative of the EU and its Member States.