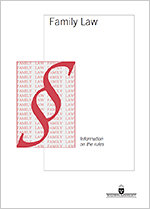 This brochure gives a brief description of the provisions relating to marriage and divorce and the economic legal effects of marriage. Provisions applicable to unmarried cohabiting couples and to registered partnership are also discussed.
Download:
The brochure also contains information on parenthood, custody and maintenance of children. A short report on certain inheritance rules is also provided.
The rules described in the brochure are applicable as of 1 May 2009.
Revised in August 2013