International Press Centre
The International Press Centre at the Ministry for Foreign Affairs provides services to visiting international journalists and resident foreign correspondents. The Press Centre is situated in the government district in central Stockholm.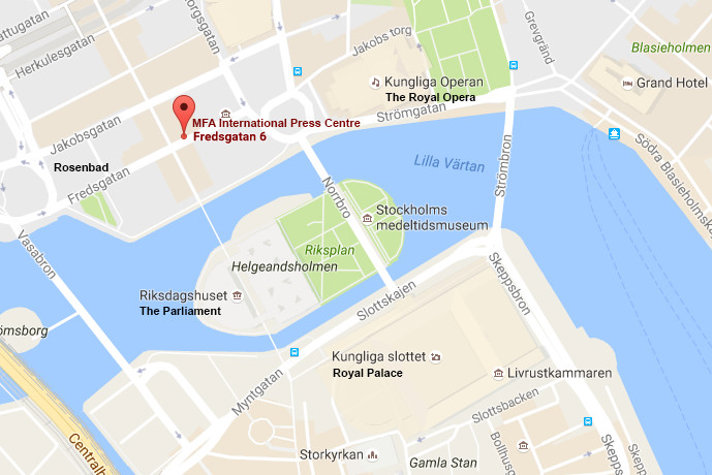 Opening hours: Monday–Friday 08.00–18.00.

The International Press Centre offers professional assistance in facilitating contacts, providing work space and arranging press briefings on various topics.

The International Press Centre has a briefing room and is equipped with Wifi, printers, photocopiers and telephones. A variety of Swedish, Nordic and international newspapers and magazines are available as well as information material on Sweden and government publications etc.

Non-Swedish media representatives with proper media credentials can work freely in Sweden within the general terms of visa, work permit etc. No general accreditation is required.

Individual accreditations are mandatory for coverage of special events, which will be announced well in advance. Foreign media intending to cover special events in Sweden are therefore encouraged to inquire whether special accreditation is necessary.

The International Press Centre is part of the Ministry for Foreign Affairs. Access to the facilities, information from the International Press Centre and listing in the foreign correspondent list is granted to applicants who have proper media credentials and sufficiently documented publishing/broadcasting activity abroad to qualify as a foreign correspondent in Sweden. The decision is made after a case-by-case evaluation by the International Press Centre.

Every Friday, a weekly e-mail with information of upcoming events of interest, e.g. press briefings, seminars and openings is sent out to listed foreign correspondents.