Isabella Lövin is no longer a government minister, Minister for Environment and Climate, and Deputy Prime Minister
-
Minister for International Development Cooperation and Climate, and Deputy Prime Minister
-
Minister for International Development Cooperation
-
This content was published in the period between
-
Donor conference for Afghanistan: "Sweden's support to the Afghan people remains firm"
On 4–5 October a major donor conference for Afghanistan will be held in Brussels, and many countries are expected to confirm their continued support to the reconstruction of the country. At the same time, the Afghan government will present what has been achieved in terms of the reforms it committed to implementing and show how this work is being pursued. Sweden's long-term commitment until 2024 makes Swedish aid to Afghanistan unique.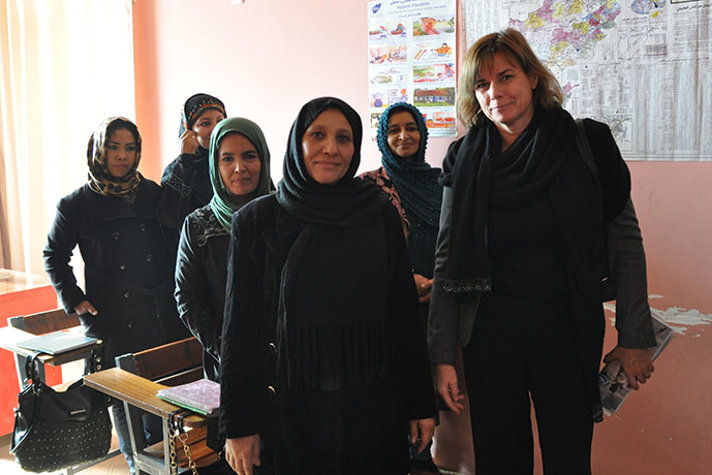 "My message during the conference will be clear. Sweden's support to the people of Afghanistan remains firm. The situation in the country is worrying and we will continue to work hard for democratic and peaceful development. Women's participation in society and in peacebuilding is crucial if the country is to manage to lift itself out of poverty, war and violence," says Minister for International Development Cooperation and Climate Isabella Lövin.
Afghanistan is one of the world's poorest countries. Almost 40 per cent of the country's population lives below the international poverty line´and it is primarily women and children in rural areas who are the most vulnerable. International aid has been absolutely essential for the progress made over the past 15 years, and the continued support of the international community is a prerequisite for continued reconstruction efforts.
Afghanistan is currently the largest recipient country of Swedish aid. Together with other donors, an active dialogue is held with the Afghan government on the importance of implementing long-term reforms to strengthen the Afghan state institutions, reduce corruption, enable free democratic elections and improve legal security and human rights. Economic reforms are crucial if Afghanistan is to reduce its dependence on aid in the long term.
In Brussels, the international community is expected to report on plans for continued aid at the same or close to the same levels up to 2020. Sweden will confirm its long-term commitment that extends until 2024.
Women's rights important for Sweden's development cooperation in Afghanistan
The aim of Sweden's development cooperation in Afghanistan is to contribute to democratic, peaceful and sustainable development with long-term economic growth that benefits people living in poverty. Gender equality and women's rights are at the core of Sweden's development cooperation with Afghanistan. For sustainable and peaceful development to be possible, both women and men must be involved in societal developments.
Many women in Afghanistan are in a very vulnerable situation. Literacy among women is at around 18 per cent, one of the lowest levels worldwide. Women generally have poorer access to medical care than men. Forced marriage of young girls is common, as is domestic violence against women. In public, women experience an everyday life fraught with threats and violence, and women's participation in societal developments is far from self-evident.
Despite this, the situation of women in Afghanistan has slowly improved. As one of the largest and most long-term international donors to Afghanistan, Sweden has contributed to improvements in many areas.
Education is a key area. Swedish aid has helped – not least through the long-term and successful work of the Swedish Committee for Afghanistan – to increase the number of children attending school from 1 million in 2001 to 8.2 million today. It is pleasing to note that 40 per cent of them are girls. Schools run by the Swedish Committee for Afghanistan have almost 70 000 children attending and 62 per cent of them are girls. In 2014, around 700 teachers were trained, 300 of them women. The Swedish Committee for Afghanistan also trains women teachers – a prerequisite to get more girls to be able to go to school.
Reduced maternal mortality and reproductive health. Every year, the Swedish Committee for Afghanistan programme trains new midwives and women teachers, which has resulted in safer deliveries and more girls attending school. In recent years, maternal mortality has fallen from 1 600 per 100 000 births to approximately 400. Sweden also supports Marie Stopes International, an organisation that helps to improve knowledge about reproductive health and family planning, and better access to clinics and services.
Protection against violence and discrimination. To achieve greater gender equality, Sweden is cooperating through the Swedish International Development Cooperation Agency with UN Women and Women for Afghan Women (WAW). Through this cooperation we have helped ensure protection in the form of women's refuges established in some twenty provinces. They offer legal assistance and rehabilitation. WAW provides guidance and protection to women and girls subjected to gender-based violence. Sweden has also been a driving force behind the full implementation of the Law on the Elimination of Violence Against Women, which is to protect women and girls against gender-based violence.
Political representation. Sweden's aid has also helped increase women's awareness of their rights and women's participation in politics and society as a whole. The proportion of women on traditional village councils, known as shuras, is currently almost one third, and Afghanistan has 27 per cent female representation in parliament.
Women's participation in peace processes. Promoting women's participation in future peace and reconciliation processes in Afghanistan is vital. The Swedish mediation network for women is an important resource for dialogue and mediation projects. The Folke Bernadotte Academy runs mediation training, to which Afghan women have been invited. Sweden is a driving force behind efforts to implement UN Security Council Resolution 1325 on women, peace and security, both in relation to the Afghan government and within the international advisory initiative Resolute Support Mission.
Since the fall of the Taliban in 2001, Afghanistan has made major progress in the education and health sectors, infrastructure, economic development and rebuilding political and administrative institutions, which were largely destroyed during decades of war. The Afghan government's reform agenda is ambitious. Despite this progress, Afghanistan still has a long way to go.
Like the rest of development cooperation, it will take time to improve gender equality, education and health, reduce violence against women and increase women's participation in peace efforts. It is important to have a long-term perspective. This is reflected in the commitment Sweden has made and stands by.
Fact box: Swedish aid to Afghanistan
At an international donor conference for Afghanistan in Tokyo, Sweden made a long-term commitment that extends up to 2024. Our work through the Swedish International Development Cooperation Agency is governed by the results strategy for Sweden's international aid in Afghanistan for 2014–2019, which covers SEK 4.87 billion. Swedish support to Afghanistan is expected to total SEK 8–8.5 billion during the period 2015–2024.

Sweden works via the World Bank, the Swedish Committee for Afghanistan, the UN bodies, and international and national private organisations. Sweden also provides extensive humanitarian aid to Afghanistan.

Contact
Annika Flensburg
Press Secretary to Minister for International Development Cooperation and Climate, and Deputy Prime Minister
Phone (switchboard)
+46 8 405 10 00