This content was published in the period between 3 October 2014 and 20 January 2019
Ministers on this page who have left the Government
Between 3 October 2014 and 27 July 2017 she was Minister for Infrastructure.
Ministers on this page who have left the Government
Between 3 October 2014 and 27 July 2017 she was Minister for Infrastructure.
Renewed Commitment to Vision Zero - for increased transport safety in all modes of transport
The 1st of September 2016 the Government announced its decision to relaunch Vision Zero, an intensified initiative for transport safety in Sweden. The Government is presenting a policy document clarifying its focus for Swedish transport safety policy. The Government is beginning by presenting three assignments to improve the prospects of positive transport safety developments.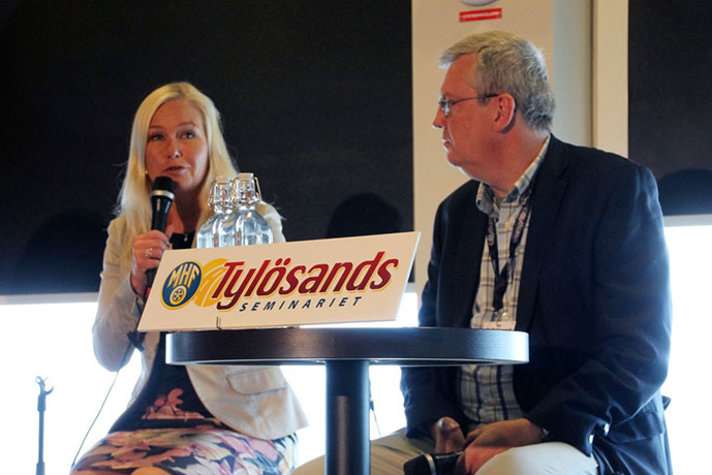 – Swedish transport safety work is successful. Sweden occupies a leading position in the fight against transport deaths. It is a position we cannot afford to lose. With the relaunch of Vision Zero we will secure elements that work well and develop elements that work less well, says Ms Johansson.
– Now we will create the conditions for Sweden to continue to export Swedish expertise and solutions in road safety, and contribute to an enhanced innovation climate.
Focus on vulnerable road users and new technology
Continued efforts for increased road safety are to be secured and developed in the areas that have been successful so far, in particular road design, some regulation and supervision, and vehicle safety. At the same time, it is crucial that future work more clearly takes account of the safety of vulnerable road users, and the potential of new technologies. The policy document points to the need for the infrastructure design and maintenance to be tailored to the needs of vulnerable road users and the need for new solutions in the transport system, such as alcolock-operated barriers in ports. Transport Analysis will also be tasked with investigating reduced speed limits in built-up areas. This could bring greater safety and security for pedestrians and cyclists, but requires further investigation.
Collaboration is important
The success of continued road safety efforts requires engagement from all stakeholders and a willingness to collaborate. Clearer leadership and coordination of the work is important. For this reason, the Swedish Transport Administration will be tasked with leading the road safety collaboration to achieve Vision Zero. The assignment includes convening and leading dialogue between relevant government agencies and other stakeholders, and proposing some activity development requiring stakeholder collaboration.
Clear target
Vision Zero still plays an important role as a target for transport safety efforts. Alongside the vision, more concrete objectives are important to guide the work in the right direction. Transport Analysis will therefore be tasked with reviewing transport policy and proposing new specifications in the area of transport safety. This includes proposing new intermediate road traffic targets beyond 2020.
Produced in dialogue
The design of the relaunch of Swedish road safety efforts has involved many stakeholders. It was produced in dialogue with representatives of relevant organisations and government agencies, as well as other stakeholders whose activities have an impact on road safety. The aspiration is that the focal points for future transport safety will serve to support all stakeholders involved in road safety.
The Government intends to propose further initiatives in this area.
Renewed Commitment to Vision Zero - intensified efforts for transport safety in Sweden