This content was published in the period between 9 July 2021 and 30 November 2021
Minister for Defence visited the Joint Protector 21 exercise
Swedish Minister for Defence Peter Hultqvist today visited Joint Protector 21 in Älvdalen. Sweden is hosting the exercise held within the framework of the Joint Expeditionary Force (JEF) defence cooperation.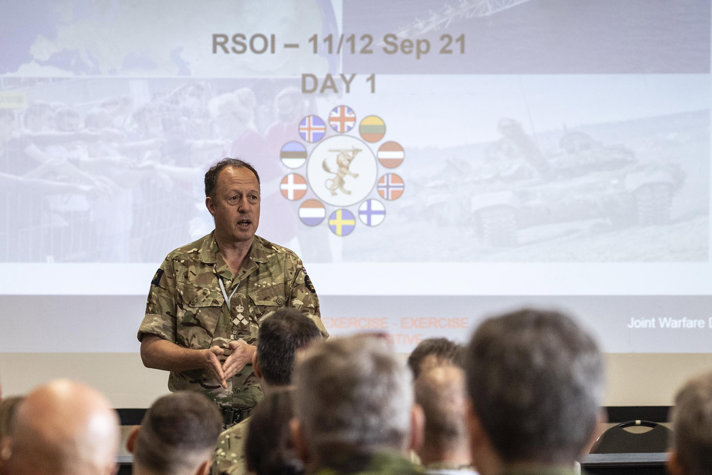 The JEF is a UK-led quick-response force intended to be able to act independently or as part of a UN, NATO or EU operation in the event of a crisis, with a focus on northern Europe. In addition to the UK and Sweden, the JEF partners are Denmark, Estonia, Finland, Iceland, Latvia, Lithuania, the Netherlands and Norway.
The Joint Protector 21 exercise is testing the JEF's ability to operate in times of crisis against a sub-threshold threat. The Standing Joint Forces Headquarters are located in the UK in reality, but in the exercise scenario the headquarters have been relocated to Sweden. The aim of the exercise is to explore how the temporarily relocated JEF headquarters can interact with a host nation, and how integration and interoperability of JEF partner nations can be strengthened.
On 25 September, Swedish Minister for Defence Peter Hultqvist participated in the official Joint Protector 21 Visitors Day.
"The exercise is intended to enhance cooperation between the UK and Sweden, and other JEF countries. We are signalling that the JEF has highly capable and interoperable forces. Considering the regional security situation, that's an important message to get across," says Mr Hultqvist.
Up to 700 personnel from the partnering JEF nations are participating in Joint Protector 21, among them personnel from the Swedish Armed Forces.
"The security situation in Sweden's neighbourhood has deteriorated over time. International defence cooperation contributes to strengthening Sweden's capabilities to be able to respond to an armed attack. The JEF is a high priority for Sweden, and it complements other forms of cooperation," says Mr Hultqvist.
Sub-threshold threats
Threats below the threshold of war – often referred to as 'grey zone' threats – are activities intended to destabilise a country without engaging in armed attack.