Mats Persson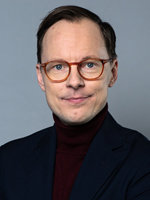 Minister for Education
Ministry of Education and Research
"Knowledge and education are the basis for social development and prosperity. Sweden must develop as a knowledge nation, with world-class research and higher education."
News from Mats Persson
Mats Persson and Lotta Edholm to deliver opening addresses at EU education meetings in Sweden

During the week of 20–24 March, several meetings focusing on education will be held as part of the Swedish Presidency of the Council of the EU. Skills supply, the green transition and education for Ukrainian pupils are among the agenda items. Minister for Education Mats Persson and Minister for Schools Lotta Edholm will both deliver opening addresses.

Research ministers discussed research infrastructures and open science

On Wednesday, 8 February, EU ministers responsible for research met on the final day of the informal meeting of competitiveness ministers in Stockholm. During the meeting, the ministers held policy debates about two current issues: the use of data from research infrastructures and open access to scientific publications.
Content from Mats Persson