Winner of the Gollegiella Nordic Sami language prize
The 2022 Gollegiella Nordic Sami language prize was awarded to Professor Emeritus Ole Henrik Magga, who has spent his entire career promoting, developing and preserving the Sami languages. Through his life's work, he has shown the Sami people and the world that the Sami languages are alive and meaningful.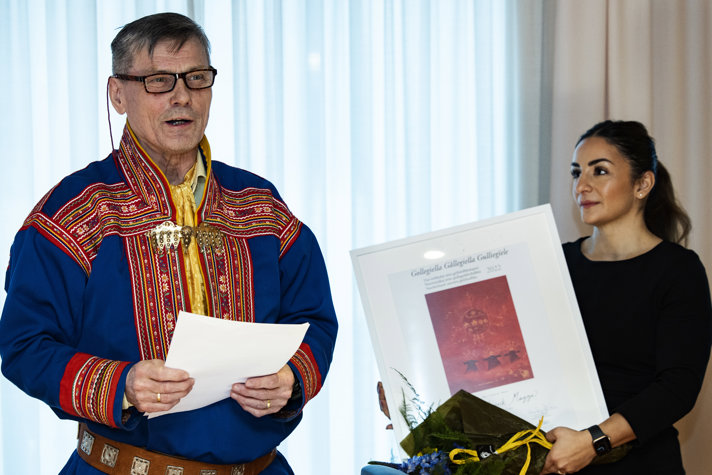 Sweden is the host country for the awarding of the Gollegiella language prize, which is being presented for the tenth time. The award ceremony will take place in conjunction with the ministerial meeting and the Sami Parliament's presidential meeting in Stockholm on 18 January 2023.
"Preserving and developing the Sami languages is incredibly important work. Ole Henrik Magga has long been a strong voice for use of the Sami languages, which is why I am proud to award the Gollegiella language prize to Ole Henrik today," says Minister for Culture Parisa Liljestrand.
"I am extremely pleased to congratulate Ole Henrik Magga on winning the 2022 Gollegiella prize. His life's work shows that he deserves to be recognised and rewarded," says President of the Sami Parliament Håkan Jonsson.
Ole Henrik Magga was born in 1947 in Kautokeino in northern Norway. He has spent decades on developing the Sami languages through academic studies, research and development of teaching aids and classroom instruction. He has developed the modern North Sami orthography, written a South Sami grammar together with Lajla Mattson Magga and participated in the developing of both the Ume Sami and Pite Sami orthographies. Mr Magga has also helped building institutions for indigenous peoples nationally and internationally. This includes serving as the first Chair of the United Nations Permanent Forum on Indigenous Issues and setting up the Sami Parliament in Norway, where he served as its first President.
Press contact
Johan Romin
Press Secretary to Minister for Culture Parisa Lliljestrand
Phone (switchboard)
+46 8 405 10 00
The Gollegiella language prize
The Gollegiella language prize was established to inspire the development and revitalisation of the Sami languages. The prize is awarded biennially. Read more about the prize and previous winners on the Sami Parliament's home page.