The Budget for 2023 in five minutes
Sweden is facing a challenging economic environment. Households and businesses are under pressure from high inflation and rising interest rates. The Swedish economy is expected to enter into recession in 2023. Against this background, on 8 November, the Government presented its budget proposal for 2023. You can read more about the autumn budget here.
In the Budget Bill the Government presents its overall proposals for allocating central government expenditure between different activities, and its estimate of expected revenue. The Budget Bill also contains the Government's assessment of the outlook for the Swedish economy and public finances, and the frameworks this provides for fiscal policy.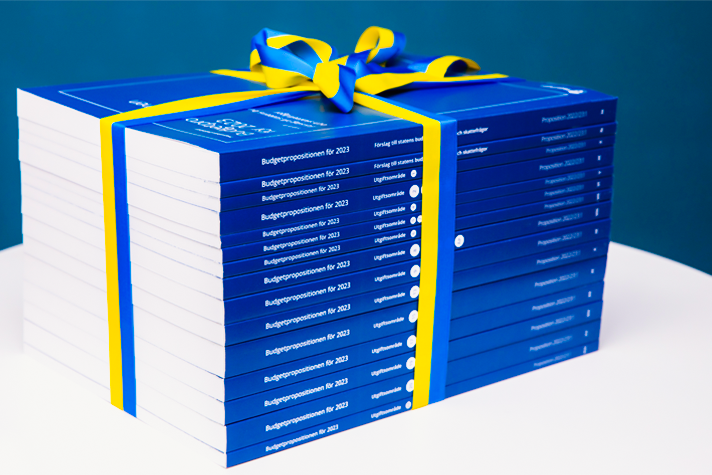 Challenging times lie ahead
The forecast for the Swedish economy is gloomy and there is a significant risk that the situation will worsen. The Swedish economy is expected to enter into recession in 2023. GDP growth was relatively strong in the first half of 2022, but the trend is expected to weaken and negative growth is likely in 2023. High inflation, rising interest expenses and uncertainty weigh on household consumption and business investments. Forward-looking indicators also suggest weaker growth ahead, and – not least – consumer confidence is very low.
Key indicators forecast 8 November 2022
Percentage change unless otherwise stated

| | | | | |
| --- | --- | --- | --- | --- |
| Key indicators | 2022 | 2023 | 2024 | 2025 |
| GDP | 2.6 | -0.4 | 2.0 | 3.2 |
| Employment, aged 15–74 | 3.0 | 0.2 | 0.7 | 0.8 |
| Unemployment, % of labour force aged 15–74 | 7.4 | 7.7 | 7.5 | 7.2 |
| General government net lending, % of GDP | 0.6 | 0.2 | 0.4 | 1.4 |
| General government gross debt, % of GDP | 31.8 | 29.4 | 28.6 | 26.2 |
| CPIF | 7.9 | 5.2 | 2.0 | 2.0 |
Note: Based on published statistics up to and including 20 October 2022. GDP and expenditure components refer to constant prices. Sources: Statistics Sweden, Macrobond and own calculations
A neutral fiscal policy
By focusing its fiscal policy on the surplus target and proposing a slightly tighter budget, the Government is using monetary policy to prevent high inflation from becoming entrenched. The surplus target is a target for general government net lending. According to the target, net lending should average one third of a per cent of GDP over a business cycle.
It is important to pursue a responsible fiscal policy that does not work at cross purposes to monetary policy, so that inflation can be reduced with as few negative economic effects as possible. As inflation and inflation expectations are sticky, they risk becoming entrenched at a high level, which could have significant adverse effects on both the economy and individuals. This would probably require a tight monetary policy for some time to come, which would lead to weaker employment growth. Consequently, the Government's choice is a neutral fiscal policy, including a slightly tighter budget for 2023 and a high-cost protection scheme for households and businesses affected by high electricity prices.
Reforms
At the same time, the Government proposes a number of temporary support measures to compensate businesses and households that would otherwise be even harder hit by price increases. Below you can read more about the measures and reforms the Government has presented in the Budget Bill for 2023.
Support to households and businesses in difficult times
Households and businesses in Sweden are hard-pressed. The State neither can nor should compensate for all price increases, but financially vulnerable groups should receive special consideration. For this reason, fuel tax will be reduced and support to electricity-intensive businesses will be introduced in conjunction with the high-cost protection scheme for electricity bills jointly drawn up by the Government and the Swedish National Grid. To support the most vulnerable, the temporary extra allowance to families with children entitled to housing allowance will be extended and the higher levels of unemployment insurance benefit will be made permanent.
Increased security and justice
Security has become the great issue of freedom of our time. The justice system is insufficiently able to combat increasingly serious and widespread crime in Sweden. The Government therefore proposes measures to strengthen the justice system coupled with investments in prevention.
Welfare we can rely on
Knowledge-based education will be restored. Teachers need better opportunities and more time to focus on teaching and the duty of schools to promote knowledge. Health care waiting times must be shortened, quality enhanced, freedom of choice in health care safeguarded, and access to health care increased. The general government grants to municipalities and regions will also be strengthened to reduce the risk of cuts due to inflation.
A stronger defence policy
As a result of the global security environment, Sweden's defence forces must be ready to protect Swedish territory. A future Swedish NATO membership intensifies the need for a strong common defence. Sweden's resilience needs to increase. Military defence is being strengthened so that we can better defend our country, our future allies and Sweden's interests.
An effective and ambitious energy and climate policy
Sweden will pursue an effective and ambitious energy, climate and environmental policy. The Government is committed to ensuring that policies in these areas are sustainable and cost-effective in the long term. New fossil-free electricity production, expanded charging infrastructure and increased carbon capture are among the proposed budget investments.
In the link below you will find all the reforms in the table of reforms that presents the Government's investments in figures.
Budget proposal in figures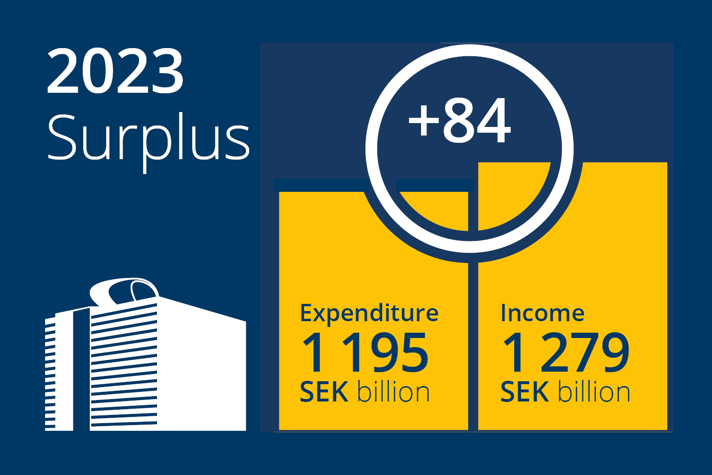 Central government expenditure proposed for 2023 totals SEK 1 195 billion. Central government income is expected to amount to SEK 1 279 billion in 2023. Central government finances are therefore expected to a show a surplus of SEK 84 billion in 2023.
Next step – Riksdag processing of the draft budget
When the Government has presented its draft budget, the Riksdag's processing begins. The Riksdag considers the draft budget in two different steps:

Step 1: First, the Riksdag adopts the guidelines for economic policy and the economic framework of the central government budget. The decision on the economic framework – known as expenditure frameworks – guides the continued processing in the Riksdag, as the expenditure frameworks cannot be exceeded. This first decision by the Riksdag is usually referred to as the framework decision.

Step 2: In the second step, the Riksdag takes a position on how to divide up expenditure in each individual expenditure area, in other words how much money different activities will receive. Processing of the Budget Bill is complete when the Riksdag has position on the proposals for all expenditure areas. The Riksdag then finalises the central government budget.