New nuclear energy in focus when Prime Minister received South Korea's Prime Minister
On Monday 8 May, Prime Minister Ulf Kristersson received South Korean Prime Minister Mr Han Duck-soo in Stockholm.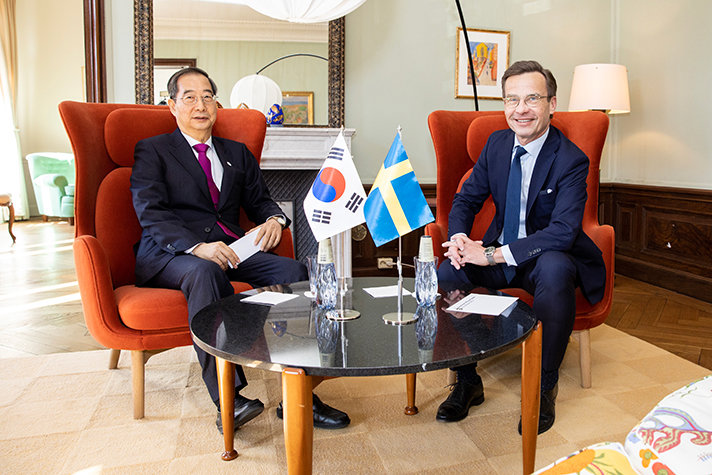 "South Korea is a very close partner of Sweden and the EU. Our two countries are at the forefront of technology and we stand up resolutely for the rules-based international order. Strong cooperation between the world's democracies is becoming even more important in light of Russia's full-scale invasion of Ukraine," says Mr Kristersson.
Agenda items included the security situation in Europe, on the Korean Peninsula and in the Indo-Pacific region, enhanced cooperation between South Korea and Sweden in trade, investment, defence, energy and the green transition, and – not least – cooperation on new nuclear energy.
"Sweden is going to build new nuclear power plants to produce more clean electricity and speed up the green transition. South Korea is a role model when it comes to developing new nuclear energy, and we are now enhancing our cooperation," says Mr Kristersson.
South Korea is among the world's leading manufacturers and exporters of nuclear power plants. Like the Swedish Government, it has announced an expansion of nuclear power, including investments in small modular reactors (SMRs).
The Sweden + Korea Green Transition Alliance is an initiative of Team Sweden and Swedish companies in South Korea to support and promote the green transition.