This content was published in the period between 21 January 2019 and 8 July 2021
Ministers on this page who have left the Government
Between 3 October 2014 and 30 November 2021 he was Prime Minister.
Ministers on this page who have left the Government
Between 3 October 2014 and 30 November 2021 he was Prime Minister.
Deal reached on long-term budget at EU summit
After a marathon summit, the leaders of the 27 EU Member States reached a deal on the long-term EU budget for 2021–2027. Prime Minister Stefan Löfven and his EU colleagues also agreed a post-COVID-19 recovery package.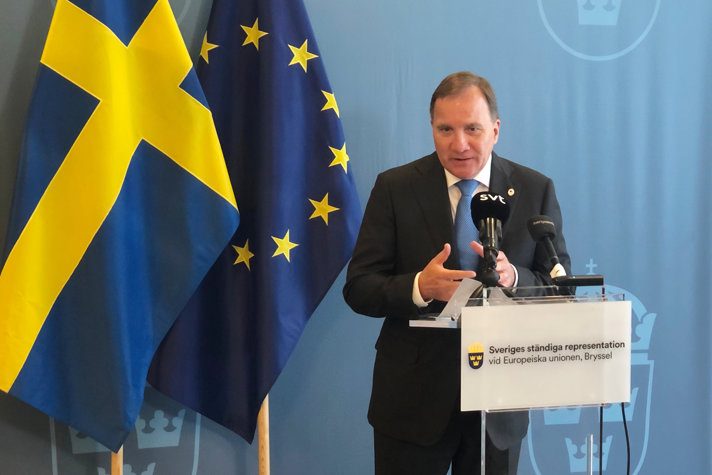 - After four days of intensive and tough negotiations, we finally reached an agreement, said Mr Löfven after the meeting, and added:
- Europe is facing many challenges that we need to tackle collectively, and it's important that the budget is in place. And with the recovery package, we are also better equipped to manage the COVID-19 crisis and its economic impacts.

The Prime Minister commented on the difficult negotiations at the summit.

- Despite a difficult starting position, Sweden's interests and priorities have had a substantial impact. Sweden's budget contributions have been reduced, the rebates are the largest ever, and for the first time the EU has a framework that links EU payouts to respect for the rule of law. This is a huge change, said Mr Löfven.
Mr Löfven also commented on the good cooperation with several other EU member states during the negotiations.

- Together, Sweden, Denmark, the Netherlands and Austria also succeeded in tightening the conditions for the recovery package and getting green and digital investments that will build a stronger EU and speed up the green transition.

The long-term budget for the entire period is worth EUR 1 074 billion. The recovery package is worth EUR 750 billion, EUR 360 billion of which will be provided as loans and EUR 390 billion as grants.
The meeting began on Friday morning and was concluded early on Tuesday morning.