Defence appropriation to increase to two per cent of GDP
Sweden's military defence funding is to increase to two per cent of GDP. This was conveyed by Prime Minister Magdalena Andersson at a press briefing with Minister for Finance Mikael Damberg and Minister for Defence Peter Hultqvist.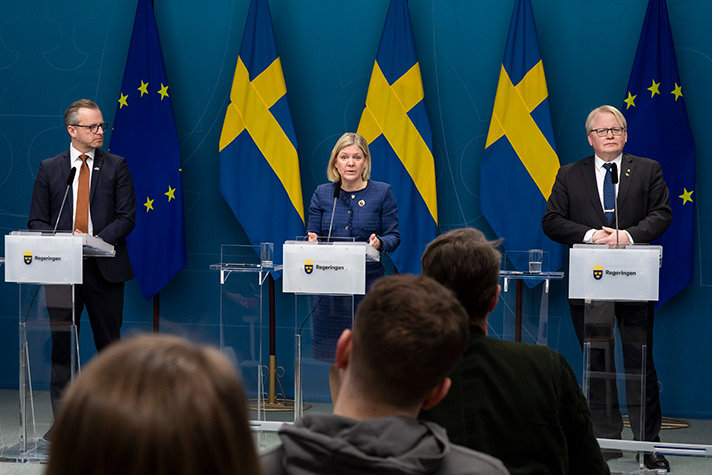 The Prime Minister said that the Government has a three-track approach in response to Russia's invasion of Ukraine. The first track involves supporting Ukraine and the Ukrainian people by providing financial and humanitarian support, but also support to strengthen Ukraine's resilience. The second track involves the Government, together with other countries, imposing sanctions against the Russian regime, and the third track involves taking measures to strengthen Sweden.
"Tensions are high in our neighbourhood – the situation is worse than for several decades and we need to keep strengthening our defence capabilities," said Ms Andersson.
Further military defence reinforcements
The Prime Minister noted that Sweden's ongoing military scale-up is the largest since the 1950s, and reinstating national military service is one of the measures.
"Including the current defence resolution, expenditure on defence will have increased by 85 per cent between 2014 and 2025," said Ms Andersson.
She also stated that there will be further reinforcements. Even before Russia's aggression against Ukraine, following talks with the Defence Commission, Mr Hultqvist had decided to strengthen national defence capabilities in the short term. In addition to this, the Government will decide on additional resources.
"Military defence funding will increase to two per cent of GDP. We will meet this objective as soon as it is practically possible. That is, when it's possible to translate these increases into strengthened defence capabilities.
"We must also establish stable, long-term and solidarity-based financing for the scale-up that the majority of the Riksdag will support. It must have a stable basis if we're to have a strong and secure defence," she concluded.