The Swedish Foreign Service action plan for feminist foreign policy 2019–2022, including direction and measures for 2019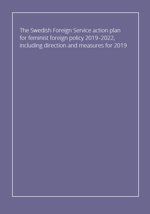 Gender equality is still a vision, not a reality. Sweden's feminist government wants to make this vision a reality. Gender equality is a goal in itself. But it is also essential for the achievement of the Government's other overall objectives, such as peace, security and sustainable development. Sweden is the first country in the world to pursue a feminist foreign policy.
Download:
This action plan sets the direction of feminist foreign policy action guided by six long-term objectives. The Swedish Foreign Service will contribute to all women's and girls':
Full enjoyment of human rights;


Freedom from physical, psychological and sexual violence;


Participation in preventing and resolving conflicts, and post-conflict peacebuilding,


Political participation and influence in all areas of society;


Economic rights and empowerment; and


Sexual and reproductive health and rights (SRHR).
These are broad objectives to match broad challenges, cover the entire global agenda and bring the whole range of foreign policy tools into play. The plan also specifies approaches, starting points, tools and actors. This action plan is part of the Foreign Service regulatory steering process, which means that it is updated and followed up yearly.