EU dependence on imported Russian energy must be broken
The European Commission is working actively to secure a stable energy supply in Ukraine, and the EU must remain unified against Russia's invasion. Those were the key messages from the press briefing held by Minister for Energy and Digital Development Khashayar Farmanbar and European Commissioner for Energy Kadri Simson.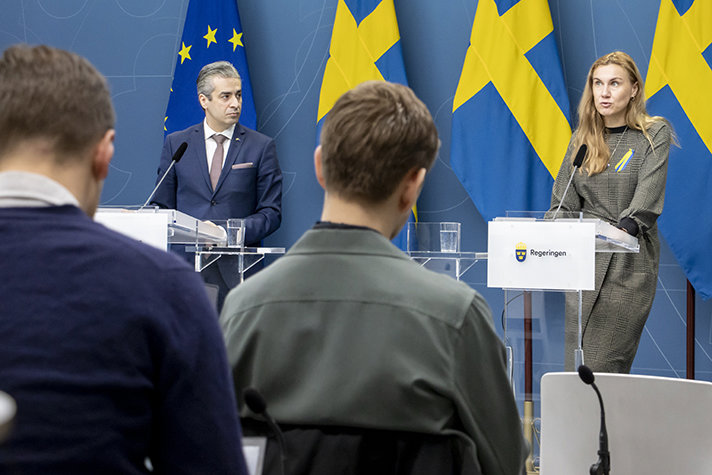 On 18 March, European Commissioner for Energy Kadri Simson visited Stockholm. The European Commission plays an important role in dealing with the consequences of Russia's invasion of Ukraine and ensuring the EU achieves its climate objectives.
"The EU must jointly break its dependence on Russian fossil fuels to secure its energy supply and reduce energy costs for both industry and households," says Minister for Energy and Digital Development Khashayar Farmanbar.
"Russia's war in Ukraine underscores the urgency of accelerating our clean energy transition in the EU and breaking free from our dependence on Russia's fossil fuels as soon as possible," says Ms Simson.
Sweden's dependence on nuclear fuel, oil and gas from Russia is low, whereas large parts of Europe are heavily dependent on Russian energy imports. Around 40 per cent of gas imports, 27 per cent of oil imports and 46 per cent of coal imports to the EU come from Russia.
Mr Farmanbar and Ms Simson both emphasise the green industrial revolution in northern Sweden as a good example of how the European Green Deal can work in practice.
"Sweden is a good example of how we in the EU can phase out our dependence on imported fossil fuels while also being innovative and competitive," says Ms Simson.
In July 2021, the European Commission proposed a revision of the EU Renewable Energy Directive, including more stringent requirements for bioenergy to be classified as sustainable.
"We must quickly find a sustainable replacement for gas. Therefore, it is counterproductive to introduce new restrictions on bioenergy, which is the dominant form of renewable energy in the EU. Moreover, we need to break free from the dependence on Russian fossil fuels," says Mr Farmanbar.
Swedish companies are investing heavily in the production of fossil-free steel. This technology can help reduce total national emissions by ten per cent, but the production process requires a lot of electricity. Nevertheless, Sweden has a good starting point with its national surplus of essentially fossil-free electricity and high proportion of renewable electricity.
"But I am concerned that the Commission's proposal on new electricity production requirements may slow the green industrial revolution. Greater flexibility is needed," says Mr Farmanbar.
Mr Farmanbar and Ms Simson also discussed the high prices in the energy market, and Mr Farmanbar highlighted the Swedish model for electricity price compensatory payments.
Other points
As part of the efforts to secure the electricity supply in Ukraine, Ukraine's and Moldova's electricity systems have now been synchronised with continental Europe's electrical grid, and no longer with Russia's, according to the European Network of Transmission System Operators for Electricity.

About bioenergy
Biofuel is renewable fuel produced from biomass, such as waste from agriculture and forestry. The energy from biofuel is called bioenergy.