Consent – the basic requirement of new sexual offences legislation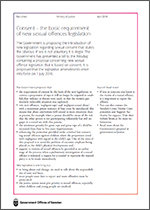 Fact sheet:
The Government is proposing the introduction of new legislation regarding sexual consent that states the obvious: if sex is not voluntary it is illegal.
Download:
The Government has presented a bill to the Riksdag containing a proposal concerning new sexual offence legislation that is based on consent. It is proposed that the legislative amendments enter into force on 1 July 2018.