This content was published in the period between 3 October 2014 and 20 January 2019
Swedish Minister for Justice and Migration Mr Morgan Johansson visits Bangladesh 10 May to 12 May 2016
The Swedish Minister for Justice and Migration Mr Morgan Johansson will complete his first visit to Bangladesh, today. The main purpose of his visit was to deepen the relations between the two countries in the key area of migration, in light of Bangladesh's chairmanship of the Global Forum on Migration and Development.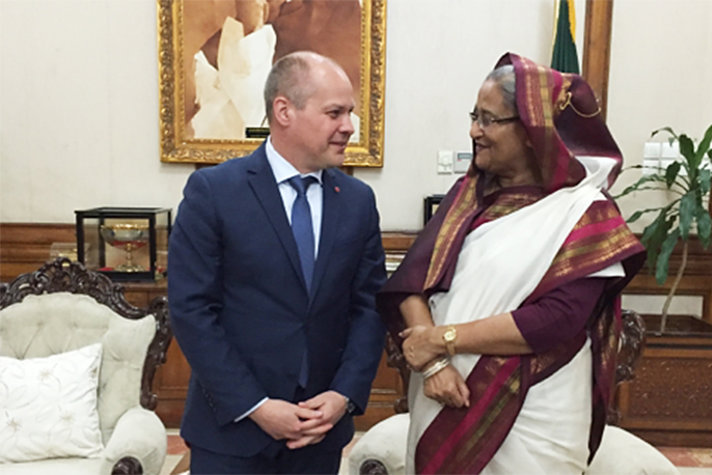 During his two day long programme, the Minister met representatives of the Government of Bangladesh, as well as representatives of civil society and the private sector. He met HE Prime Minster, Ms Sheikh Hasina Wazed, State Minister of Foreign Affairs, Mr Shariar Alam, Minister of Expatriate's Welfare and Overseas Employment, Mr Nurul Islam and Minister of Law, Justice and Parliamentary Affairs, Mr Anisul Huq during his visit. He also met with local and international organizations working on migration and human rights.
"Sweden and Bangladesh have a long history of working together on development and trade. We share a common goal to improve regular migration and protect migrants' rights and this has been at the core of my talks along with a discussion of trade and human rights in Bangladesh", said Mr Johansson in light of his visit.
The meetings' topics included trade and cooperation between the two countries as well as issues of human rights including workers' rights and migration from a Swedish and Bangladeshi perspective.
As part of his visit, the Minister will participate in a public lecture on "Emerging Global Migration and Mobility, Trends and Issues: Swedish Perspective" today, the 11 May 2016.
Background
Mr Morgan Johansson belongs to the Swedish Social Democratic Party. He has served as Minister for Justice and Migration in the Swedish Government, as a member of the Löfven Cabinet, since 2014.

Johansson was previously Minister for Public Health and Social Services in the Persson Cabinet from 2002 to 2006 and has been a Member of the Riksdag since the 1998 elections. As a member of the opposition he was Chairman of the Committee on Justice of the Riksdag from 2010 to 2014.
Contact
Jonatan Holst
Press Secretary to Morgan Johansson, Minister for Justice and Migration
Phone (switchboard)
+46 8 405 10 00